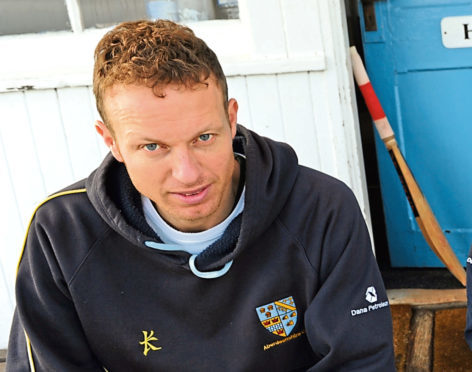 Scots are famous for spreading their influence throughout the world, whether as inventors, explorers or statesmen, so it shouldn't be any great shock they have made similar strides in sport.
And yet, it still occasionally comes as a surprise when one delves into Europe or Australia and discovers pioneering people making waves in different pursuits.
Consider Neil Macrae, for instance, the quietly-spoken former Scotland and Saltires batsman, whose reluctance to engage in Churchillian rhetoric doesn't disguise his burning ambition to nurture successful teams wherever he ventures in the game.
Macrae proved an accomplished motivator and tactician when he helped build a flourishing team at Aberdeenshire during a lengthy spell at Mannofield.
And now, he has coached Jersey to victory in two of their first three matches at the ICC World Cup T20 qualifier and steered them into a position where they can realistically harbour dreams of competing in the main event in Australia next year.
It's a marvellous story which hasn't happened overnight, but there again, Macrae loves the game and is in it for the long haul.
After thriving within the Scottish and Highlanders set-up, he stunned many people by taking over the reins at….Austria, a country which was previously more closely linked with The Sound of Music than the whack of leather hitting willow.
Unperturbed, he helped propel the part-timers on an upward path and made a sufficiently positive impression that he was offered the opportunity to take over at Jersey in a move which saw him swapping the Von Trapps for Bergerac.
When he accepted the job – in 2013 – there was precious indication of the scale of the task which awaited Macrae. Yet, as the years have passed, his men have beaten Kenya, Hong Kong, Nepal, all of them nations with a decent pedigree on the Associate circuit.
On Tuesday, in Dubai, they achieved a terrific win against the UAE, who had previously defeated Ireland, yet collapsed from 60 for 0 to 112 all out, in pursuit of 148.
Macrae once told me: "It was a steep learning curve when I was in Austria – they only had limited facilities, which amounted to a couple of AstroTurf pitches. But their players were enthusiastic and that shone through in the advances they made."
"However, working in Jersey is very different. And one of the biggest things is how you can see the progress which is being made, summer after summer. It is not dissimilar to when I was at Aberdeenshire in 2008 and 2009 and we saw the emergence of a team which won the National League and the Scottish Cup.
"The Jersey boys are definitely heading in the right direction. And they have earned the right to compete in the same company as the Scots and the Irish. Yes, it poses a big challenge, but it's one we are all looking forward to tackling in the future."
As one of the members of arguably Scotland's most successful-ever side, Macrae has kept in touch with the teammates who surged to ICC Trophy glory in 2005.
He has even joined forces with former colleague, Colin Smith, to create and promote the "Katchet" machine, which has been sold throughout the globe.
He's an innovator, a man who clearly relishes Twenty20. And it would be a fantastic achievement if they be could among the participants on the World Cup stage.