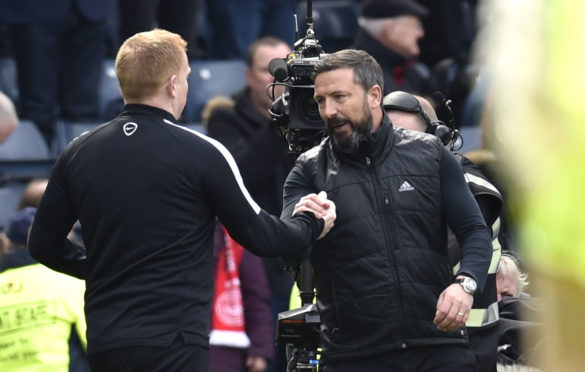 Aberdeen manager Derek McInnes believes Celtic present a completely different challenge under Neil Lennon.
The Hoops clinched an eighth successive Scottish Premiership title with a 3-0 victory on their last visit to Pittodrie in May when Lennon was in caretaker charge following Brendan Rodgers' move to Leicester City.
McInnes has challenged his players to match the intensity of Lennon's Celtic when the league leaders make the journey back to Pittodrie on Sunday.
He said: "There is still that confidence within the team, the same level of technician, the same level of player but Neil has put his own stamp upon the squad this year.
"Neil was on a hiding to nothing last year. He was obviously grateful for the opportunity to go back in but there is no doubt it was a real test for him to get the job done.
"Now he is getting the opportunity to take that team on and I think there are similarities with Brendan's team. The same level of player is there and Celtic are used to playing a certain way.
"But I do think there is now a bit more tempo in Celtic's possession work. It is the same aggressive work out of possession that Brendan had. They still try to put teams under pressure, and that for me is pretty similar.
"But in possession I would say Neil Lennon's Celtic has a bit more intensity about it. There is still the thought process there, and Brendan's team aimed to out-think you and plotted a way up the pitch a lot of the time. But Neil will be quite happy to go and ask you a question and hit you right between the eyes.
"If you say 'direct' people automatically think that is smashing the ball forward. But I think this is more about forward passes and asking the questions of the opposition a bit quicker.
"Brendan's Celtic team could still do that, but they probably mixed the game up a bit more.
"There is no right or wrong way. They won 6-0 last week (against Ross County) so you have to say that whatever Neil is doing with them at the minute, it seems to be working."
McInnes, however, is relieved that former Dons loan player Ryan Christie will miss the match against the Dons as he serves the second match of a two-game ban.
McInnes said: "I said to my staff at the start of the season that he could be Scotland's player of the year this year. He just looks like has grown into the position now of being an important Celtic player.
"When you are on the fringes of things, or you've been out on loan for 18 months, which he was, then you can never be sure. But now I think Celtic are a better team with him in it.
"He gives them that intensity out of possession when he is in the team.
"In possession he brings the quality as well as the work rate. He is as good, technically, as any player playing in the league. But he is without doubt the hardest working player in the league, and I say it to all my younger players who have the ability: they should be looking at what Ryan Christie has in his game – his tenacity, his sheer will to win.
"He plays on the edge sometimes – we saw that against Livingston – but I think that makes him what he is."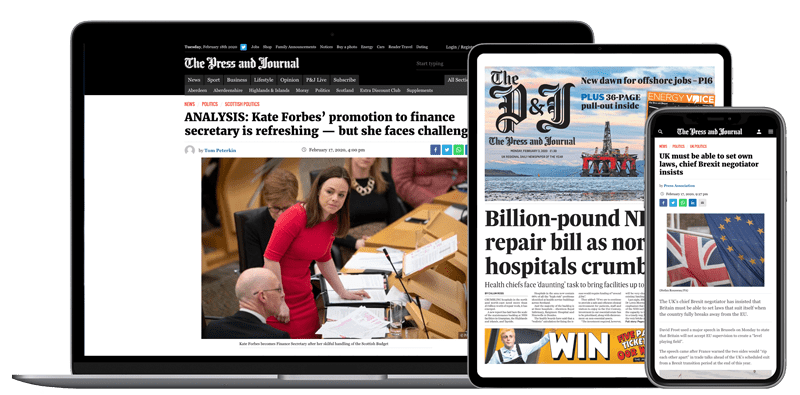 Help support quality local journalism … become a digital subscriber to The Press and Journal
For as little as £5.99 a month you can access all of our content, including Premium articles.
Subscribe