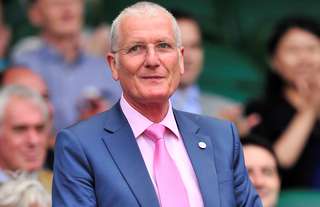 It's no wonder that many batsmen were left feeling slightly petrified when Bob Willis began his menacing run towards them.
He was fast, he was penetrative, he snarled at the air and was capable of tremendously quick bowling at the height of his powers in the early 1980s.
The former England captain, who has died after a short illness aged 70, was one of the big beasts in the sport during that period and, although the 1981 Ashes contest at Headingley is often referred to as 'Botham's Test', there is little doubt that the Australians would have prevailed, but for an electrifying burst from Willis whose heroics turned the match on its head.
Chasing just 130 for victory, they had advanced to 56 for 1 when the paceman with the rock star's hair – who changed one of his middle names to Dylan by deed poll in 1965 as a mark of respect to the great folk singer – tore up the script and launched into a spell of eight for 43 in just 15.1 overs of controlled mayhem.
At the climax, when he yorked Ray Bright, and ran towards the pavilion, the atmosphere around the Leeds ground was akin to a Springsteen concert. And Willis, still pumped with adrenaline, was angry at having his selection questioned when he spoke to BBC commentator, Peter West, after the thrilling denouement.
It was the apotheosis of his career, but there were plenty of other occasions to savour. The fast bowler took 325 wickets in 90 Tests from 1971 to 1984, captained England in 18 Tests and 29 one-day internationals before his retirement from all cricket in 1984 and subsequently developed into a coruscating commentator on Sky Sports in 1991.
He continued to work for Sky and was part of their coverage during this summer's Ashes series, where he was as delighted as anybody by the pyrotechnics of Ben Stokes in orchestrating a new Headingley miracle for the 21st century.
He sometimes came across as a curmudgeonly figure and his post-match verdicts were frequently torture chambers for those who had under-performed, especially the England line-ups who regularly folded like Jiffy bags in the 1990s, but his love of cricket always shone through.
Willis represented Surrey for the first two years of his professional career before spending 12 years at Warwickshire, finishing with 899 wickets from 308 first-class matches at an average of 24.99.
The Sunderland-born bowler made his Test debut, aged just 21 in the 1971 Ashes series, after being called up to replace the injured Alan Ward and he participated in the final four Tests of the seven-match series as England won 2-0.
Thereafter, despite needing surgery on both knees in 1975, and suffering a series of injury problems, he became one of the finest fast bowlers of his generation, not just in England, but anywhere in the world.
James Anderson, with 575 wickets, Stuart Broad (471) and Ian Botham (383) are the only England bowlers to have surpassed Willis' tally in the chronicles.
But that doesn't diminish the many serried achievements of Willis, who, akin to his musical hero, wasn't averse to leaving Blood on the Tracks for his country.