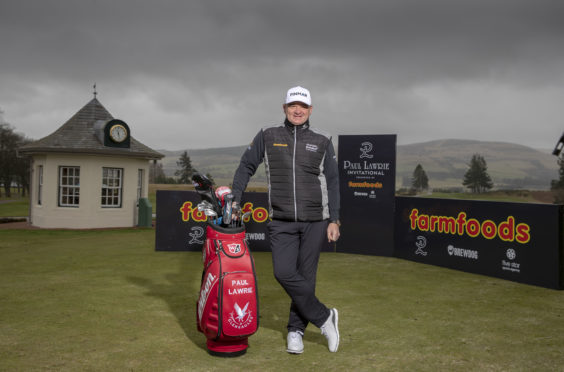 Paul Lawrie says he gets just as much satisfaction from his golf management company as he does from playing.
The 1999 Open champion was named Staysure Tour rookie of the year for a stellar season on the senior circuit, which included a victory in the Scottish Senior Open in August.
But the 51-year-old is even busier off the course and expects running his sports management and events company, Five Star Sports Agency, to become his full-time job in the coming years.
European Tour winner David Law and Sam Locke, who won the Silver Medal at the 2018 Open, are among the agency's clients along with Craig Howie, Hannah McCook and Lawrie's son Craig.
He said: "Even when I was with IMG and 4sports for years, I always did my own management stuff when dealing with local people and companies.
"A lot of local people would prefer to deal with me rather than a big fancy management group.
"When David Law came on the go, I started doing stuff to help him get sponsors when he turned pro.
"When I was struggling with my foot injury, I thought I was never going to play any more and doing a bit more on the management side appealed to me.
"We set up the company in 2018 and got some events on the go.
"I am really enjoying the management side of going into meetings with people and coming away with a sponsorship package for a young golfer that makes a difference.
"It is an amazing buzz.
"It has helped that I did it at the start when I wasn't charging players and was just doing it to help them out.
"I learned a lot, which has helped now that we have set up the company. It is a lot of work.
"Michael MacDougall (manager of the Paul Lawrie Foundation) looks after a lot of the things for the players, such as flights and accommodation.
"He also runs things when I'm playing tournaments as it is still important that when I'm playing I am 100% focused on playing. We think the players are being looked after well."
Lawrie has high hopes for his agency that he hopes to see come to fruition in the coming years.
He said: "As I get older and start slowing down on the playing side, this will become my full-time job.
"Ideally, you would like to have a player from Spain, a player from Italy, a player from France so you can then sell in those countries.
"That would be the idea in the long term but at the moment I am happy to look after the ones we want to look after.
"When David Law won the Vic Open in Australia, it felt like winning a tournament myself.
"I know how hard he works, he is at the golf centre every morning to hit balls. It was a great thrill.
"We understand that 95% of it is down to Davie and the family and we are a small part of what he has achieved."