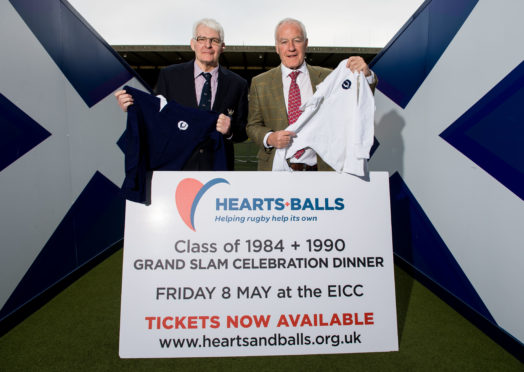 They were two of the roughest, toughest hombres who ever pulled on a Scotland rugby jersey.
But, beneath their streetwise exterior, Jim and Finlay Calder are two of the most genial fellows you could hope to meet and they share a very special place in the sport.
After all, they are the only pair of brothers who were involved in achieving different Grand Slam victories for their country in 1984 and 1990.
Jim was involved in the first triumph 36 years ago and Finlay was an integral part of the team which beat England at Murrayfield on a mad March day in 1990.
The brothers never played in the same Scotland side; Jim won the last of his caps against Wales in March 1985 and Finlay made his debut against France in January the following year. But
The siblings have now confirmed that the two Grand Slam ensembles of 1984 and 1990 will come together for the first time at a unique dinner to raise money for rugby players who have suffered life-changing injuries.
The Grand Slam Celebration dinner, which will take place on Friday, May 8 at the EICC, will raise awareness and funds for Hearts + Balls.
Jim, who scored the clinching try in Scotland's 21-12 victory over France at Murrayfield in 1984, which gave Scotland its first Grand Slam since 1925, was joined by his brother Finlay, the flanker who helped Scotland to glory in 1990, for the special dinner's launch at BT Murrayfield on Monday.
Jim, who never played in the same Scotland Test side as his twin brother, said: "It might have been 36 years ago, but sometimes it feels like yesterday.
"It was just tremendous to have been involved in such an iconic moment in Scottish Rugby. My only small regret is that I wasn't able to play here with Fin in 1990.
"Both teams are looking forward to getting together to compare stories and have a bit of friendly debate about which team would have won had we ever played each other.
"Rugby provided some of the best moments of our lives, so it's important we all come together to raise funds to support rugby players and their families in times of need."
Full squads from both successes will be in attendance at the event which will be hosted by Dougie Donnelly, an integral part of the TV coverage in both seasons, with music from 1984 Grand Slam winner John Beattie and his band.
Since Hearts + Balls was founded in 1999, it has provided more than £650,000 to rugby players who have suffered serious injuries. The support has ranged from property conversions to counselling and has helped many different individuals and families.
The charity's chairman Kenny Hamilton said: "This event and the generosity of Scotland's rugby community will help  Hearts + Balls continue to make a real and lasting difference to those who need it most, and to help support initiatives to make the game we all love as safe as possible."
Tickets are available from heartsandballs.org.uk