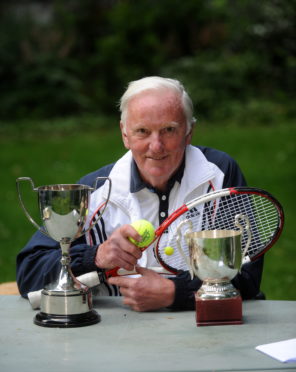 It was a strange bus journey through Aberdeen last week. On the road up from Countesswells to the city centre, there was only one subject on the passengers' minds and it revolved around the news of the death of north-east tennis stalwart, Jimmy Wood.
Sport can often be a unifying force, but this fellow was more than just a local sports star. He won senior titles at Wimbledon, excelled in Australia and dominated north-east court affairs for many years, and yet the game was merely one of his many interests, alongside teaching, painting, sculpting, football and family life.
One of his eight sons, Calum, who is a now a high performance manager at Sportscotland in Stirling and represented his country in hockey, contacted me and confirmed that his father never wanted to restrict himself to just one speciality.
He was too outward-looking and gifted in other areas for that, which explains why his striking artwork was exhibited at the Scottish National Portrait Gallery.
Yet he was also one of the stalwart members of Cults LTC, and worked tirelessly to promote the organisation on his peripatetic journey across the globe.
It's no wonder, therefore, that Gareth Rennie, the head coach at Cults, described Jimmy as the heartbeat of the organisation for all of 70 years.
He told me: "It's difficult to sum up exactly what impact he had on the local tennis community, but the fact you can mention his name to a twenty-something or an 80-year-old and they will know who he was is testament to what he achieved.
"Jimmy had a massive influence on those who played with or against him and playing at such a high level for so long meant that he transcended generations.
"I often hear stories of how Jimmy put a young whippersnapper in their place by beating them despite the 40+ year advantage they may have had. He never gloated or disrespected the opponent, but simply took care of business with his usual efficiency, fuelled by immense talent and an even stronger will to win.
"We often hear about 'legacy' these days with the Murray brothers, Andy and Jamie, doing their best to leave a mark on Scottish tennis that will last long after their professional careers have come to an end.
"Jimmy's legacy was never manufactured, his contribution to future generations came from the example he set. Local players had a bona fide international champion who could be seen playing week in week out right on their own patch, someone who balanced the difficult act of being a ruthless winner alongside being a true gentleman."
In another generation, Jimmy would have been offered the chance to turn professional and join the ATP Tour. There's a very strong possibility he would have been a success and, who knows, potentially emulated the exploits of Andy Murray in recent times.
But he never bothered about these things. Growing up in the amateur era, he was content to stamp his imprint on the game at local level and all his prodigious international honours arrived when he was in his 50s, 60s and 70s.
As Rennie said: "He was honoured with lifetime membership for all he had achieved while flying the flag for Cults across the world and he will continue to be used as a benchmark for success, an example of what can be achieved when you set exacting standards of yourself and leave no stone unturned in the pursuit of your dreams.
"A contemporary of Jimmy said to me this week that, had he lived anywhere else but Aberdeen, he would likely have played Davis Cup for Great Britain.
"Yet Aberdeen was his home and where his family were settled and his achievements simply seem all the greater given how far removed he was from the traditional heartland of British tennis."
Jimmy's funeral takes place at Baldarroch on Friday. It's a safe assumption there will a massive turn-out for one of the great stalwarts of the sport in his community.