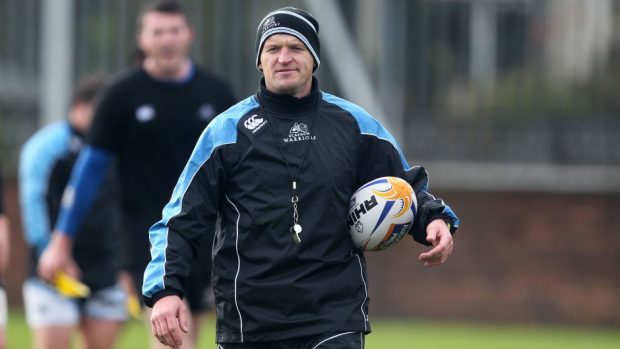 Gregor Townsend always played rugby with an eye for an opening, a quicksilver piece of brilliance, and occasionally moved into Boy's Own territory with his acts of derring-do.
Most famously, there was the sublime "Toony Flip", which allowed Gavin Hastings to sprint through the French defence for a last-gasp try in 1995, and was the catalyst for the Scots recording their first victory in Paris for 26 years.
Brilliant, yes. Innovative, undoubtedly. And that one incident summed up the special qualities which Townsend often brought to the game.
Sadly, though, there aren't too many performers with his spontaneous talent and precious few in the current Scotland ranks, or at least in the absence of Finn Russell, who will once again be absent for reasons which have nothing to do with sport when his compatriots strive to beat Italy in Rome on Saturday afternoon.
On paper, this match shouldn't be unduly taxing for the visitors. It's been an eternity since the Azzurri triumphed in the Eternal City – or anywhere else in the Six Nations – and they are staring down the barrel of their 25th consecutive defeat in the event.
They were nilled in their opening game of the tournament in Cardiff and, despite scoring three tries against France in their next outing, that was significantly down to the latter's loss of discipline after they romped into an early lead.
So why does this fixture come accompanied by a queasy feeling? Why, for all the talk of getting the job done, is there the lurking sense that the Italians must win again sometime and the one side they fancy their chances against is Scotland?
Well, for starters, wingers Matteo Minozzi and Mattia Bellini, have shown they have lashings of gas and the ability to score tries consistently against top-class defences.
New coach, Franco Smith, has reinvigorated his charges and they are nobody's fools going forward, armed with a big pack, including such redoubtable customers as Jake Polledri, Sebastian Negri and Bram Steyn, who will be roared on by an Italian support who will be looking for an action-packed opening period.
I still believe that Scotland will come away with the spoils, but for all the talk of progress and running opponents close, Townsend's team haven't managed a try so far in 2020. They had chances to overcome a flaccid Irish team and failed to convert them.
Then, they met England in the midst of a Murrayfield maelstrom, which reduced the outcome to the toss of a coin or erratic bounce of a saturated ball.  In both cases, a losing bonus point was scant consolation.
It's a big test, both for the under-pressure coach and his players, and while they are marginal favourites, this is one of those occasions where getting the job done is all that matters. They should focus on control, on mastering the basics, on keeping the game plan simple and patiently wearing down the Italian resolve and silencing their fans.
These things aren't rocket science. They are the very essence of professionalism and, as the great Gavin Hastings told me this week, the Scots "have to change their culture and not bother how they win as long as they win."
If it's by 13-10, or 19-17, it doesn't matter. But if the boot is on the other foot, there should be no complaints about refereeing conditions or typhoons, hurricanes or injuries. We've heard far too much of that already in recent months.
Aberdeen's footballers showed the way against Kilmarnock this week in the Scottish Cup. They were trailing for most of the contest and on the brink of elimination. But they kept their belief, hung on to their opponents, and scored two goals in the last two minutes to win the tie. It was nerve-shredding for their aficionados, but who cares? They are in the next round and they can now look forward.
Their Scottish rugby counterparts have to be similarly unstinting this weekend.