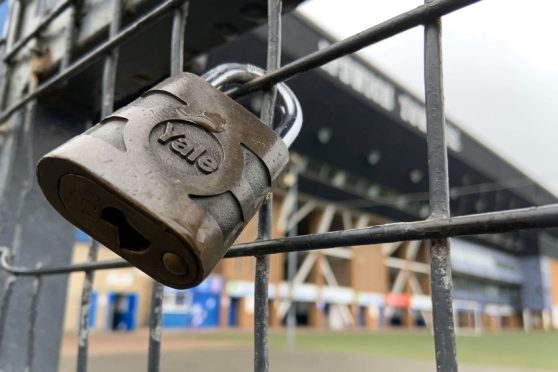 Sport has been one of the most prominent sacrifices in the battle to control the coronavirus pandemic.
Global events, sporting seasons and mass gatherings have been postponed en-masse to prevent large numbers of people congregating together.
Derick Macleod has a foot in both camps. A qualified GP in Inverness, Macleod has worked with Caley Thistle, Team GB, the Scottish national teams and his current role with the Team Ineos cycling team, with his own first-hand experience of virus.
"My first real-time experience of this was over at the Tour of the United Arab Emirates at the beginning of this month, where two members of another team were found to have Covid-19 and the race was brought to a premature end after the fifth stage," said Macleod. "We were all put into lockdown in our hotel rooms in Abu Dhabi for a couple of days and we were all tested. When we were found to be negative we were allowed to leave the country.
"Some of the teams that were affected were kept in Abu Dhabi for a further week for some of them and two weeks for some of them. You can see how it creates fear, anxiety and difficulty for everyone involved in that kind of scenario."
While the immediate focus was on the decision to call off competitions, the discussion now switches to when they may be resumed. With football's governing bodies due to meet today to decide the fate of the European Championships and Scottish football likely to follow suit on its own season, the question is when it will be safe to do so.
"It's a good but really difficult question," said Macleod. "At the moment, I don't think anyone can answer that fully. It's likely the infection rate in the UK and across Europe will continue to increase before it starts to decrease.
"We know we're still on the upward slope of the curve and until we reach the top of it and start to see a decline, it's difficult to know what the total period will be where we're practising social isolation and avoiding mass gatherings. We'll be in a much better position to judge that in a month's time but just now it's too early to say.
"It's the right thing to do because we know it will slow down the spread of it. The government has taken measures which are absolutely appropriate and it does cause difficulty for individuals, businesses, sports teams and athletes. But it's imperative we follow the government scientists and medical advisers' advice by shutting down sporting venues, as our health service will be better equipped to cope with it.
"It's really vital we listen to that advice we're given and it is a sacrifice for people, but it's a sacrifice that's worth it in terms of more people surviving this epidemic than would otherwise be the case."
The risks of the virus to athletes is, by and large, the same as the rest of the public.
However, according to Macleod, their heightened fitness levels mean they are likely to catch a milder strain of it, compared to the older or more frail sections of the population.
"Sport is probably the thing that takes really big groups together on a regular basis," added Macleod. "You've got the London Marathon, which has masses of people in close proximity. Sport is probably the best example of regular big mass gatherings. You can see why the advice has been for people to avoid them.
"It is a little bit arbitrary that figure because other nations are looking at different figures. But the advisers are looking at the best estimate approach to these things and the advice to try stay more than two metres away from people is absolutely right. It's a droplet spread, the infection, so if someone has it is breathing, coughing or sneezing near you, that two metres is where you're most at risk.
"You're reducing the risk to the general population as well as to the individuals within it."
---
Experience from Chinese and Italian doctors battling coronavirus is proving vital.
Macleod, an Inverness GP who has experience with various high-profile sporting organisations, has seen the swell of information available to professionals increase significantly.
"As GPs we're used to seeing and dealing with viral infections all the time," he said. "But this particular mutation, Covid-19, we all had to go away and do more reading and keep up to date with the new research that's coming through, most of it from China and Italy at the moment. There's a lot of good information coming from the countries that have been in the vanguard of this infection and it is a very fluid picture.
"We're getting more information about how to manage it, the best way to control this pandemic. It's really important for all doctors, whether it's in sport, general practice or hospital, to keep up to date with the ever-changing picture.
"I'm in quite a few medical WhatsApp groups and they've been super busy with the exchange of medical information as it comes live. We're lucky we're living in an era where information is disseminated so quickly, so we can keep up-to-date with the latest information so quickly. It would have been more difficult 30 or 40 years ago."
Predictions do not have the virus peaking in Europe until June, which will cause concern for countries already dealing with significant outbreaks.
"We don't know for certain but we know it's continued to increase at the moment. We know from the experience of China that the first case was found in November and only now it's starting to reduce in certain areas.
"We know that the likely timescale is three to four months but it could be shorter or a lot longer. It depends on many things; how governments respond, people's behavioural response to it and how the virus responds to warmer weather as the seasons change. There's so many unknowns."
"The lessons that we've learned are huge. Both countries have dealt with it in different ways and we're dealing with it slightly different as well. There's a lot of information that's come out that has helped to inform how to medically manage people who've caught the virus.
"The more experience that people get of it, the more that information is shared and the more use it will be for medics in this country as numbers increase."
For a lot of people, this has thrust them into unfamiliar territory. Supermarkets rationing household supplies, everyday livelihoods impacted through closures of businesses and  regular activities put on hold. Unprecedented seems to be the only appropriate adjective.
The United Kingdom appears to be approaching their response differently to other nations, with self-isolation becoming increasingly common with even the most basic of flu-like symptoms.
Such practices will likely become more frequent in the coming months, if the virus has yet to reach its peak on these shores.
"There's been various flu outbreaks around the world, things like SARS and MERS, which are similar infections, and Ebola, which is slightly different," added Macleod.
"Over the last 20 years, there's been three or four viral outbreaks but this is something more widespread and contagious. It's likely to be an issue now for many months. I've not come across anything of this magnitude. I don't think any of us have.
"You can see that in reaction around the world and around Europe. People are reacting in different ways; you're seeing panic-buying but most people are reacting sensibly.
"It's a worrying time and what we need is good information from government and medical advisers.
"It is good to see there seems to be a steady flow of information from people who are used to dealing with these things.
"Clear guidance helps people to be less anxious – if people know what the likely outcomes are and what the best way to manage it is, it helps them to manage their own anxiety levels."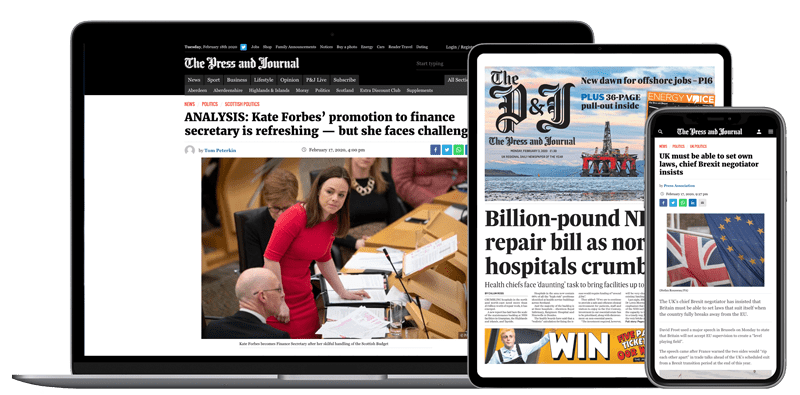 Help support quality local journalism … become a digital subscriber to The Press and Journal
For as little as £5.99 a month you can access all of our content, including Premium articles.
Subscribe