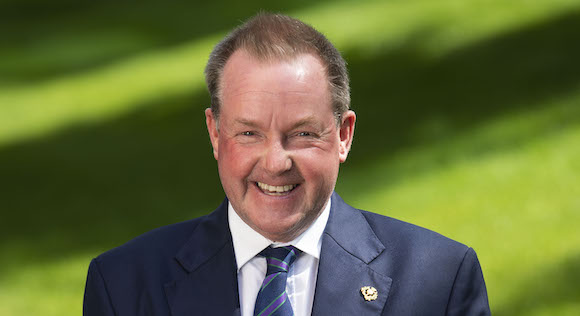 Scotland Test star, Chris Paterson, has led the tributes to club rugby stalwart, Adam Gray, who has died aged 60.
The Scottish Rugby board member and champion of the grassroots game passed away in hospital in Glasgow on Wednesday, following heart surgery.
A dairy farmer from the hamlet of Borgue, near Kirkcudbright, Mr Gray, who was known universally as Pinky, was one of life's great enthusiasts and was committed to spreading the rugby gospel.
He fulfilled every conceivable role at Stewartry rugby club in Castle Douglas, playing for the club as a utility back for around ten years, becoming captain and then, in 1992, being appointed coach.
During his tenure, the club won promotion on three occasions and he was named BT National League Coach of the Year in 2005.
Mr Paterson, Scotland's points record holder, said: "Adam was always fiercely proud of Stewartry's run in the National Cup competition in 1999.
"Gala narrowly beat them in the quarter-final at their patch and it was a brilliant display of club and a community coming together and almost causing an upset.
"Gary Parker's late try, after dribbling the ball all the way up field in front of the makeshift stand – one of the locals' lorry with the sides opened up and temporary seating in it – proved the difference.
"The reception and the warmth in the clubhouse after the most hostile and physically competitive match was as great an example of rugby values as you'll find. Adam was absolutely integral to the whole day and the campaign."
During his years of service to the game, his guidance led to players of the calibre of winger Andrew Wilson, prop Stuart Fenwick, centre Joe Ansbro, prop Suzy Hex, centre Stafford McDowall and lock Alex Craig go on to win representative rugby honours from their initial exposure to the game at Stewartry.
Mr Gray was appointed to Scottish Rugby's staff in 2006 and served for four years as performance development manager for Glasgow South.
Between 2011 and 2013, he was on Scottish Rugby's referee selection panel and in 2014 he was appointed to the referees' advisory panel.
The following year, he was first elected to the Scottish Rugby Council, as a representative of regional league clubs in Glasgow South and, in 2018, was appointed to the Board of Scottish Rugby.
Colin Grassie, chairman of the Scottish Rugby Board, said: "I would like to express our profound shock and sadness over the passing of our colleague.
"Adam brought passion, wisdom and total integrity to everything he did over many years for Scottish rugby. We extend our deepest condolences to his family and host of friends. We will miss him very much."
Mr Gray is survived by his wife Lissy and their children Georgina and Cameron.