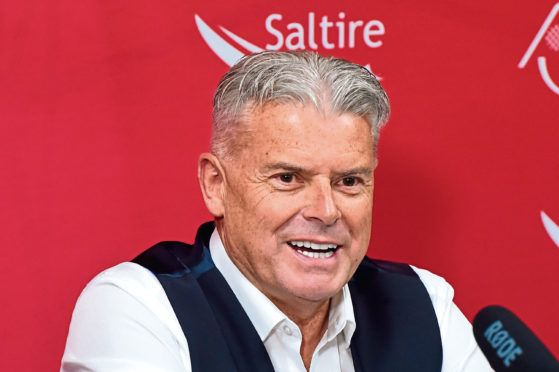 Aberdeen chairman Dave Cormack believes competing in a European cross-border league could be the future for the Dons.
Cormack reckons the majority of Scottish football fans are bored with the dominance enjoyed by nine-in-a-row champions Celtic and would be excited by the prospect of seeing their team lining up against similar-sized sides from other nations.
The Dons chairman feels cross-border leagues is inevitable – a view shared by SPFL chief executive Neil Doncaster earlier this summer.
He said: "From an investment standpoint, instead of looking to a broadcast deal which, let's say, in ten years' time is probably gone, clubs have got to go out and look for investment.
"It's the responsibility of directors to look for investment and put marketing plans in place.
"The important thing is where we will be in five to ten years' time.
"If you ask the 42 clubs in Scotland where we'll be you'll get varying opinions.
"If I look ten years' out, there will be closed-door European cross-border leagues, I believe that will take place.
"Why is that? Most European leagues – including Scotland – are dominated by one or two teams.
"What this proves to me is that a monolithic domestic league proves one size does not fit all.
"The game in Scotland will survive – it absolutely will – but in what shape or form is it going to be in in 10 years' time?
"The reality is the fans are bored and I think we ignore them at our peril."
Cormack, who was speaking on former SPL chief executive Roger Mitchell's podcast Are You Not Entertained, added: "I like a boxing analogy. If you were setting up a fight and want to make £100 million, why would you put a lightweight in with a heavyweight?
"Maybe once in a hundred years the lightweight is going to win.
"What is a fair fight? This is what I think will even itself out in Europe because the days of Dundee United beating Barcelona and Aberdeen beating Real Madrid are gone.
"That doesn't mean there isn't an appetite for football, so from my perspective, what I think would be fair is to bracket clubs according to what they spend on their budget."
Cormack believes the emergence of colt teams in the Scottish game is also highly likely.
He said: "The other thing I see is there will be colt teams, absolutely Celtic and Rangers – and I have no problem with it – they have aspirations to grow and that growth will be in Europe, not in Scotland.
"There is nothing wrong with having aspirations.
"We at Aberdeen have aspirations of wanting to be part of that.
"It might not be a Champions League 2, it might be a Europa League where there is a league of right-minded countries.
"We all have to be open about this.
"If colt teams come in to play, where does that lead us as a country?
"What would the broadcasting revenue be if Celtic and Rangers are playing colt teams?
"We have to get on the front foot, rather than wait for the crumbs to come off the table from teams such as Barcelona and Man United."