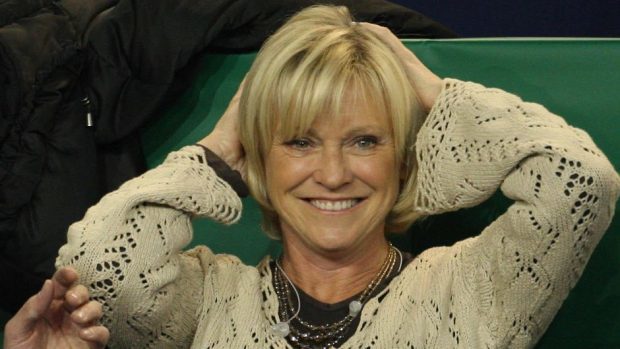 It's one of those TV institutions which offers a reassuring presence in the schedules even if you don't watch it any more.
So perhaps it isn't surprising that the news "A Question of Sport" is discarding its presenter Sue Barker and team captains Matt Dawson and Phil Tufnell has provoked a lot of criticism and complaints since it was announced on Sunday.
This trio have been at the helm for a combined total of 50 years; a sign of their durability and the BBC programme's appeal more than half a century after the launch show featured Henry Cooper and Cliff Morgan as the captains with a truly stellar guest line-up of George Best, Tom Finney, the tragic Olympic athlete Lillian Board who died of cancer a few months later, aged just 22, and the Ashes-winning England skipper Ray Illingworth.
Right from the outset, AQOS has gone through as many regenerations as "Doctor Who", with those who have settled in the captain's chair including a list of the greatest names in the pantheon: Freddie Trueman, Emlyn Hughes, Brendan Foster, Gareth Edwards, Willie Carson, Bill Beaumont, Ian Botham, John Parrott, Ally McCoist and Frankie Dettori.
The 40th anniversary show was graced by Pat Cash, Michael Johnson, David Coulthard and Laura Davies, while a special AQOS at 50 saw a number of illustrious sportspeople, led by Jessica Ennis-Hill, Colin Jackson and Denise Lewis, highlighting their memories of watching the programme through the 1980s, 90s and thence into the new millennium.
In short, this isn't a format to tamper with lightly. And, down the decades, there have been several terrific pieces of television as the show's cast tried and failed to answer their questions.
On one occasion, Emlyn Hughes told David Vine that the equestrian figure on the picture board was jockey John Reid.
The Liverpool footballer looked ever-so-slightly embarrassed when he was subsequently told it was, in fact, HRH Princess Anne.
Then there was the occasion where a clip of a skating dance duo was shown in the "What Happened Next?" segment and Carson responded confidently: "They fell through the ice!"
If that was unlikely, what about the time when Frankie Dettori struggled desperately to unscramble an anagram – of Frankie Dettori. Or McCoist, a natural raconteur and one of the best captains, being unable to recognise a certain Walter Smith, who just happened to be his boss at the time.
At various stages during the "Mystery Guest" round, Barker has been guessed by different participants as Chris Hoy, Ray Clémence, Dennis Taylor and the recently-departed Alan Minter.
The BBC, keen to capitalise on its hit formula, tried to emulate the programme's success with "A Question of News" in 1971, "A Question of Entertainment" in 1988, "A Question of Pop" in 2000 and "A Question of TV" the following year, but if you can remember any of these shows, then you're worth a bonus point or two.
None of them had the stamina and staying power of the original, but changing the cast has been a regular occurrence on AQOS and there's no reason to suppose new presenters and captains won't hit the ground running. Or at least if they are given the chance.
The trouble is these days that any decision to tinker with the status quo seems to provoke a storm on social media and a culture clash between different parties.
I've already seen fears expressed that the BBC will seek to promote racial diversity – as if that was a bad thing – or strive to appeal to a younger audience – which again has to be a priority for them.
A lot of the people airing these type of opinions are the sort of individuals who excoriate Alex Scott's football punditry skills, despite the fact she is excellent at providing articulate analysis.
Is she facing opprobium for being a woman? Or being black? Or a combination of both? If so, then we can safely ignore the Twitter warriors. Because she is very good at her job.
Personally, I think AQOS has grown a bit stale and repetitive and urgently requires an injection of fresh blood.
Just as long as the BBC doesn't stumble into a similar self-inflicted mess to that which surrounded their handling of the "Last Night of the Proms" in recent weeks, there is no reason why one of their flagship productions can't celebrate its 60th birthday in 2030.
And, at the end of the day, if people don't like the new 2021 version – for any reason – there is always the "off" button on their TV remotes.