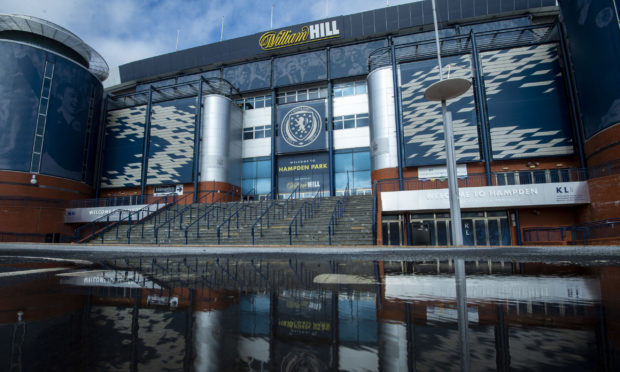 One might have imagined that sports governing bodies would have realised by now there is no prospect of significant numbers of fans being allowed back into stadiums for many months.
Indeed, as an increasing number of positive Covid-19 cases are recorded throughout Britain, it would be the height of irresponsibility for clubs to even consider reopening their doors, even if the current restrictions are relaxed, before the arrival of spring in 2021.
This is being regarded as a Doomsday scenario by many organisations. In recent days, the warnings from a wide range of football and rugby clubs have been of the apocalyptic variety. The head of the Tokyo Olympics, which have been rescheduled for next summer, has meanwhile warned that the Games must go ahead "whatever the cost", which must be a candidate for one of the most asinine statements of the year. Mind you, there are plenty of other contenders.
Of course, nobody is happy about the current situation. But there is no point dwelling on Jock Stein's famous saying "Football without fans is nothing'. The Scottish and Westminster Governments aren't going to sanction any mass return of supporters for at least the next six months and, until there is a vaccine, that probably isn't going to happen at all.
In these potential circumstances, where is the imagination, the drive and the vision to come up with a Plan B? The SPFL, for instance, is struggling on at 12 different grounds with some matches live on TV, allied to highlights packages, while the clubs search for solutions.
Well, what about this one? The creation of a series of "Magic Weekends", with state of the art live coverage of all SPFL fixtures staged at Hampden Park on Saturdays and Sundays?
The format would see three matches played at 2, 4.30 and 7pm at the national stadium with players, coaches and coaches in a bubble every weekend. Fans would be offered a virtual day pass to watch all six contests at £15 or £20 via a pay-per-view scheme, or they could simply follow their favourites and receive an online programme with it, all for a fiver.
I know that different clubs have established their own TV stations, but there's no sense of occasion or shared experience about these separate projects. But if Sky or BT – or the BBC – joined forces and flung the kitchen sink at the project, it might have the same cumulative impact as strangers sitting down and watching Strictly and the Great British Bake Off.
The nay-sayers will quibble – they always do – but these weekends could be switched around, from Hampden to Ibrox to Celtic Park and even Murrayfield. Similar plans could be devised for Pittodrie, Tannadice and other grounds to be the venues for weekends in the second and third-tier leagues in Scotland. Nobody's pretending it's a perfect solution, but the alternative is clubs going out of business during what is going to be a long, tough winter.
International rugby has to consider these type of proposals, not only for the delayed "autumn" Tests and completion of the 2020 Six Nations Championship, but also a contingency for the 2021 competition and even the British and Irish Lions tour of South Africa.
The authorities have arranged for a series of matches to be staged across the nation from the end of October to December, but politicians aren't going to allow fans into these contests or not to an extent where they would become remotely profitable.
Instead, there should be a Magic Weekend across all six countries who participate in the annual Six Nations. Obviously, there wouldn't be the same atmosphere or emotions from fans watching the SRU's finest meet France or Wales in their own homes as if they were singing Flower of Scotland at Murrayfield, but we have to be realistic: what's the alternative?
Even if matters improve in the weeks ahead – the alternative is more likely – nobody should pretend this is anything more than a damage limitation exercise. And there's precious little comfort for the lower-league teams in football and rugby as they worry about withering on the vine.
Yet cricket has highlighted that the bubble works if it's properly regulated, whether in serving up an exciting array of Tests, ODIs and T20 fixtures between England and the West Indies, Pakistan, Ireland and Australia, or in the success of the ongoing Indian Premier League in Dubai and the Vitality Blast climax in England later this week.
More than six months after the imposition of the original lockdown, the consequences for sport are grievous with swingeing job losses across the administrative network. Nobody has ever been in a crisis of this magnitude and the reaction to it has been woefully inadequate in so many different aspects. But moaning about the problems isn't going to help.
The only way forward is for clubs to pull together, regardless of past grievances, and governing bodies to think not outside the box, but in conjunction with the TV companies.