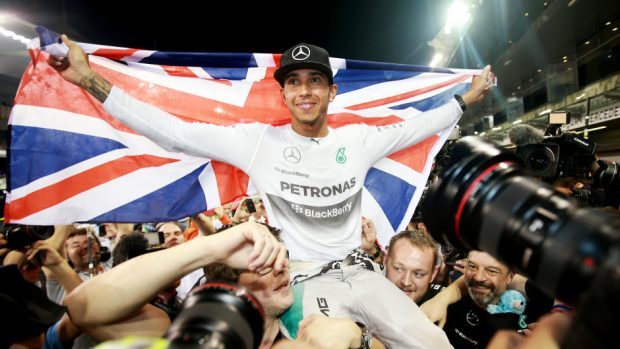 The wheels had barely ground to a halt in Portugal on Sunday before the debate had started on whether Lewis Hamilton is the greatest racing driver of all time.
The English maestro has been dealing with these comparisons for most of his prolific career, and even though he has now amassed 92 Grand Prix victories – surpassing the tally achieved by Michael Schumacher – and is the dominant performer of his generation, poised to secure his seventh world title next month, his achievements are still being downplayed in some quarters.
Earlier this month, Scotland's three-time global champion, Sir Jackie Stewart, sparked controversy when he described Juan Manuel Fangio as "the greatest driver that's ever lived" with his compatriot Jim Clark in second place, ahead of Ayrton Senna.
He justified his comments by saying the increased number of F1 races and advances in technology had made Hamilton's exploits easier than in the 1950s and 1960s when competitors in the pit and paddock were accustomed to being stalked by death, destruction and serious injury in their quest for honours.
That's a valid perspective, yet it leaves one wondering what Hamilton is expected to do in the absence of having access to a time machine. It's certainly not his fault that he and his Mercedes colleagues have grabbed the sport by the scruff of the neck and left the likes of Red Bull, McLaren and Ferrari flailing desperately in the slipstream.
As somebody who has interviewed Stewart on a regular basis, I've heard him speak about Hamilton in glowing terms, but it is almost as if he is bored with the current state of F1. How else to explain his comment that the Mercedes car and engine are now "so superior that it is almost unfair on the rest of the field?"
Even if that is the case, the onus is surely on the other teams to raise their standards rather than wallow in despondency. Ferrari, for instance, have become almost a parody of the organisation which reigned over the rest while Schumacher was in their car.
Then, there's the lazy stereotype of modern sport that there are no "characters" any more; a perception regularly been labelled at those who get their kicks from chicanes.
It might, indeed, be true that the days have vanished when a James Hunt wouldn't so much flirt with danger as invite it up upstairs for a night of unbridled passion, but the notion that the modern generation are all blank-eyed automatons is a travesty.
On the contrary, Hamilton has been a genuine trailblazer, somebody who has excelled ever since he was a youngster racing karts at Larkhall and other circuits. He has always possessed a steely resilience, technical expertise and prodigious talent and there have been myriad occasions throughout his career where he has looked so comfortable he might have been taking the family saloon for a Sabbath jaunt in the country.
He has also been very vocal in backing the Black Lives Matter campaign and fighting for more racial diversity in the Grand Prix realm. That hasn't endeared him to everybody, but he raised his head above the parapet and has stuck to his guns.
Ultimately, it's not his fault that he is in a class of his own at the moment. You might as well argue that Rafael Nadal should be forced to play with a wooden racket at the French Open or Bryson DeChambeau and Dustin Johnson should be handed a set of old hickory clubs as they prepare for next month's US Masters.
Life moves on, technology advances and new styles and methods evolve. That's the same in business, in health, in technology….wherever humans are striving to move forward in different spheres. At some point, but probably not before he has hoovered up  an eighth and ninth world title, Hamilton's powers will wane and new stars will shine.
There is one opponent whom nobody can defeat, however resourceful and gifted they are – and that's the old man with the scythe and the grim countenance. But we should relish the fashion in which Hamilton has taken F1 into uncharted territory as he contemplates passing 100 GP wins at some stage in 2021.
He's a special character who is scaling unprecedented heights.
ANOTHER TIME, ANOTHER PLACE…
I spoke to Scotland's prince of stand-offs, John Rutherford, this week about the news that his former teammate and friend, Roy Laidlaw, is fighting dementia.
And while Rutherford has been saddened by the news, he also told me he is still golfing regularly with his fellow Borderer – "and I can assure you he is as competitive as ever."
He also provided a fitting reminder of how dramatically rugby has changed in the last 30 or 40 years.
As Rutherford recalled, after the Scots won the Grand Slam in 1984: "On the Monday, following our victory over France, the whole squad were meeting in Edinburgh for some celebratory drinks, but unfortunately, Roy couldn't make it.
"He was an electrician in Jedburgh and he had to work. His job that day was…rewiring the public toilets!"