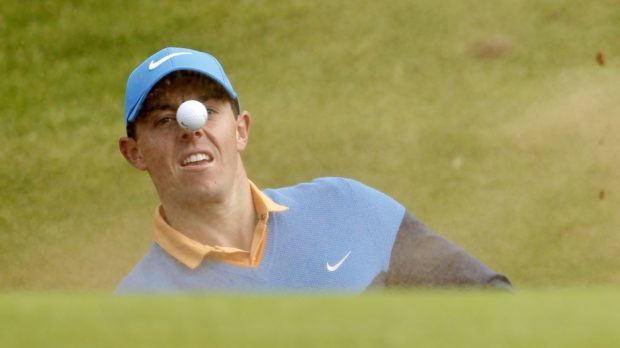 Rory McIlroy is eager to make up for lost time at Royal Troon after missing last year's Open championship at St Andrews through injury.
The Northern Irishman, then number one in the world, was forced to withdraw from the 144th Open after injuring ankle ligaments while playing football.
It meant that McIlroy was denied the opportunity to defend the Claret Jug he won at Hoylake two years ago but, thankfully for the spectators heading to this week's event, McIlroy is fully fit and excited about the prospect of trying to win his fifth major title.
He said: "St Andrews was one that I'd earmarked since 2010 as somewhere I would possibly have a chance to win a Claret Jug.
"I feel of all the courses on the Open rota, that's probably my best chance to win so to miss last year was very disappointing.
"I actually thought it was going to be more difficult watching it on television because it was at St Andrews and I was going in there feeling like I was playing well.
"But I actually enjoyed watching it over the weekend and it also put things in perspective for me.
"I went to the gym or the pool as the play-off started as I was rehabbing my ankle at the time and people were just going about their daily routines.
"When you're here at the Open it seems like it's everything to you.
"But you look outside in the bigger, wider world, and it's not the be all and end all. It's obviously very important to me and important to a lot of people, but last year put things in perspective for me a little bit."
McIlroy is still getting accustomed to the unique demands of the Royal Troon links and discovered yesterday during his practice round that the iconic 123-yard Postage Stamp par-3 is not to be underestimated after getting stuck in a greenside bunker.
He said: "I think I took an eight or a nine, so that didn't go too well.
"I went into the front right bunker and it took me five or six attempts to get out.
"There is a lot of sand in the bunker so when the ball just trickles in, it doesn't go into the middle.
"The lip there is basically vertical so every time I tried to get it out, it would go back into the same spot.
"It was a bit of a struggle at the Postage Stamp for me.
"It's one of those holes where you just try to hit it in the middle of the green, even though it is so short, and then take two putts.
"You can't be aggressive.
"If you make four threes there this week, you're probably going to gain a bit of ground on the field."
McIlroy tees off at 9.36am tomorrow alongside Japan's Hideki Matsuyama and American Bubba Watson.