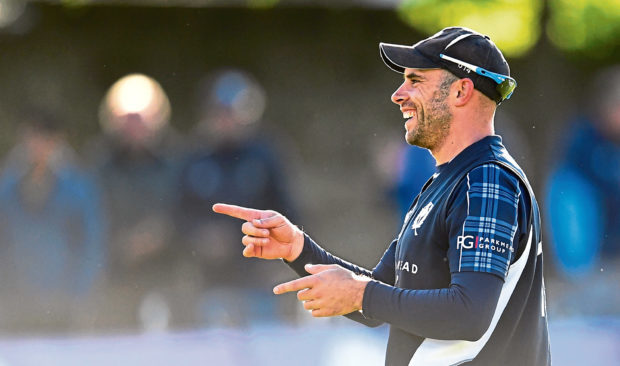 Aberdeen's Kyle Coetzer has covered the A-Z of cricket during his far-travelled sporting career so it was no surprise the Aberdonian was yesterday appointed to the ICC Cricket Committee.
Coetzer, who made his international debut in 2008, has replaced Kevin O'Brien as the associate members' representative after Ireland attained full member status.
Belinda Clark, who captained Australia to World Cup titles in 1997 and 2005 and New Zealand national team coach Mike Hesson, were also appointed for an initial three-year term.
The Scottish cricket captain still has plenty to offer on the pitch and highlighted his talent on the international stage in Zimbabwe earlier this year, only for his team to suffer last-gasp heartbreak in its World Cup qualifying campaign.
He and his charges have recently recorded a series of impressive results in the spotlight but life remains tough for the Associates as the global game grapples with major issues over its future structure.
In which light, Coetzer appreciates the importance of Scotland's ODI against England on June 10 at the Grange and a brace of T20 contests with Pakistan at the same venue on June 12 and 13.
The tussle with the Auld Enemy will mark his 50th ODI cap but the former Durham and Northants player is not interested in personal glory. All that matters is the opportunity for him and his colleagues to keep climbing the ladder.
Coetzer said: "It's another important opportunity to mix with the number one side in the world, which is always an exciting prospect.
"We will be going out at the Grange with a few points to prove and will look to replicate the things that we were doing well in Zimbabwe.
"Playing a big home game in Scotland is always something to look forward to and, with a sellout crowd, we will be up for the challenge, there is no doubting that.
"The key will be if we can do what we do well and stick to our plans. Something that we've really learned this year is to take your chances when they come around.
"So we will do our scouting, like we would for any other game and focus on our abilities to put the pressure on them."
The problems for Scotland lie in the dearth of elite fixtures, allowing them to generate any sort of momentum or financial platform, on and off the pitch.
Ireland and Afghanistan have both been granted ICC full member status, which has yielded a huge cash boost and access to a sustainable fixture list.
Sadly, there is no such luxury for Coetzer and his confreres. Nor much prospect of matters improving quickly.
Coetzer said: "Of course, we realise the importance of high-quality cricket to ensure the guys we've got at our disposal continue to improve to keep up with the pace.
"We've got the Tri-series (involving The Netherlands and Ireland) after Pakistan, but after that, there isn't any international cricket scheduled for us (in 2018), so that is why these matches are huge in terms of making a statement. Ireland now have full membership, so their schedule will be tight and Holland will focus on the 13-team ODI League, so any type of European League might be difficult.
"Our focus is to push for full membership of the ICC but we need to continue with results on the pitch to improve our chances."
On the subject of his ICC role, Coetzer said: "It's a great honour to be able to represent the associate nations in world cricket and to be elected among such highly influential individuals and ambassadors of the game.
"I'm looking forward to representing the players' voice around the world. I can't wait to get stuck into the role."