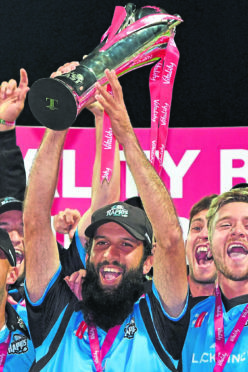 There was something joyous about watching Worcester beat Sussex at Edgbaston on Saturday in the final of the T20 Blast.
The noise generated by the fans, the twists and turns throughout the occasion in Birmingham and the excellence of such players as Ben Cox and Moeen Ali added up to a genuinely compelling spectacle.
Yet it also prompted the question as to why the Scottish cricket season was allowed to fizzle out this summer without an attempt to generate a similar end-of-season showstopper.
After all, there are plenty of ambitious organisations in Scotland who would relish the opportunity to be involved in a money-spinning crowd-pleasing finale.
I would go further and argue that Cricket Scotland should be planning a two-month midsummer competition, split into four groups, who would fight it out for the right to be crowned best in Scotland.
Yes, there already is a national competition – the Murgitroyd T20 – but while this offered an exhilarating brew, it doesn't have anything like the impact of other tournaments elsewhere.
That isn't the sponsor's fault but the domestic game needs a real pick-me-up, something which will galvanise players and supporters alike.
Aberdeenshire demonstrated what is possible with some vision and ambition when they staged a T10 event at Mannofield this month.
Now, what about a North, East, West and South league structure in an abbreviated format, with contests being staged throughout the country.
In the north, this might take the guise of a league featuring Aberdeenshire, Stoneywood-Dyce, Forfarshire, Arbroath, a North of Scotland Select and a Grades collective.
This would see all the participants tackling the others on a home-and-way basis. That's 10 Sundays dedicated to T20 and plenty of opportunities for clubs to promote the sport.
The latter is crucial to the future of cricket in these parts. You don't have to be an expert on the Grades to realise it is struggling with a dwindling player base and clubs fading into the ether.
But today, exactly 70 years since thousands of fans flocked to Mannofield to watch Don Bradman and the Australian Invincibles, we should remember how many Scots have a passion for the game.
That hasn't changed, but T20 has offered a fresh incentive to preach to the unconverted as well. It has to be seized with both hands.