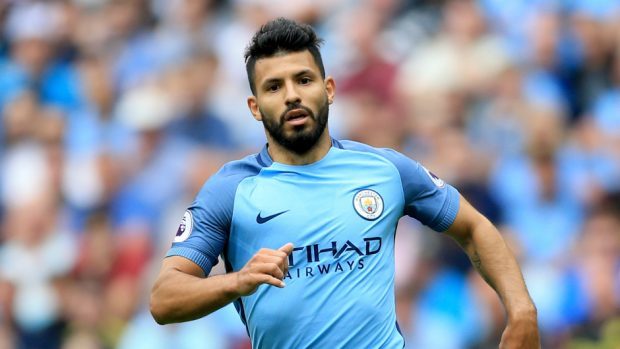 It's Week 11 of the English Premier League and for many thousands of regular readers of this column, you will realise what a terrible losing streak I am on when it comes to getting a return from my investment with the fantasy football gaming website that is Premier Punt (www.premierpunt.com).
Last week's effort was no better than the rest of October's selections. My team managed a miserable 46 point tally and 25% of those points were scored by Eden Hazard alone. It begs the question, what were the other ten supposed to be doing? It almost makes me look forward to next week's international break.
The stand out game of this weekend is the North London derby between Arsenal and Spurs. Both teams are title contenders, although that may change come next April, and are playing well. Spurs are the only unbeaten team in the Premier League and Arsenal are playing their best football for years.
Other than that, the main highlight of the weekend would probably be Chelsea at home to Everton in the Saturday evening game.
As for teams who could keep a clean sheet this weekend, I'm tipping Bournemouth, Burnley or Leicester. You could add Arsenal or Spurs to that list as I think the derby will be a close, low scoring affair.
Formation
3-4-3 is my preferred line-up and will remain so for the time being. It appears to be working for Antonio Conte at Chelsea and, if I select better players, I'm sure it can work for me. Premier Punt also offers 4-4-2 and 3-5-2 systems.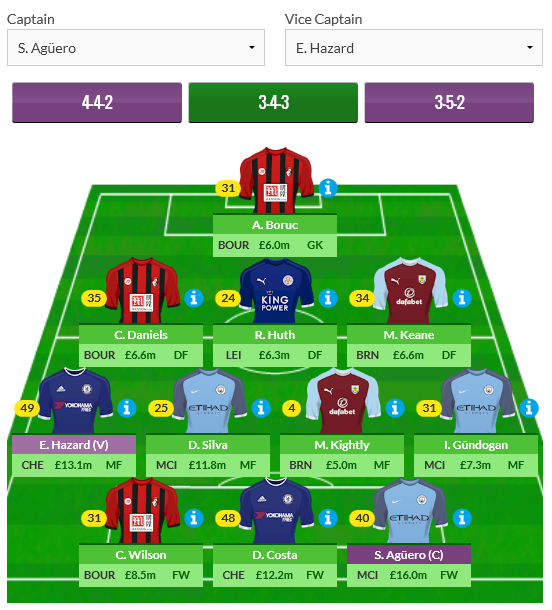 Keeper
Last week I dropped Petr Cech in favour of Watford's Heurelho Gomez. It turned out to be a good choice, one of the few I've made lately, as Gomez kept a clean sheet while Cech didn't.
This week I'm dropping Gomes in favour of the man known to Celtic supporters as "The Holy Goalie", Artur Boruc. He might be as mad as a box of frogs but he's been doing really well for Bournemouth this season and I'm tipping them to keep a clean sheet at home to Sunderland. If they do, it could turn out to be David Moyes's last game in charge of the Maccams.
Defenders
I tipped Bournemouth, Burnley and Leicester for clean sheets earlier and I'm backing that up with my defensive selections.
I'm selecting Charlie Daniels of Bournemouth, Michael Keane of Burnley and Robert Huth of Leicester in what must be the cheapest back line of all time, a mere £19.5M for the lot. I rarely pick three players from three separate teams in defence. The thought process usually being that if I've got two players from the same team and they keep a clean sheet then the points will follow. The flip side being if they concede then the points return for the defence is poor.
Last week, I had two Arsenal players in my defence and they conceded a penalty at Sunderland…game over.
As stated earlier, Bournemouth are at home to Sunderland and Charlie Daniels has been knocking on the England door with his performances over the last eighteen months.
I was at Old Trafford last week to witness Michael Keane, ex Manchester United, put on an old fashioned display of body-on-the-line defending. Burnley host Crystal Palace on Saturday.
Leicester City have tightened up their defence in the last few weeks and I'm looking to Robert Huth to have a clean sheet when they entertain West Brom this Sunday.
Midfielders
Last week my midfield four only earned me 22 points, not great considering I spent 40% of my £100M budget on them.
My only goal scorer was Eden Hazard who is in great form at the moment and will keep his place in my team this week.
Joining Hazard across the middle are David Silva and Ilkay Gundogan of Manchester City with Michael Kightly of Burnley, who is literally there to make up the numbers at £5M.
My only concern with this midfield, other than Kightly, is whether the City manager will select both Silva and Gundogan after their midweek exploits against Barcelona. This is always an issue when selecting a side so early in the week leading up to the games. However, teams can be altered up to five minutes before the first kick-off of the weekend on Premier Punt.
City play Middlesbrough, who had a good win at home to Bournemouth last week, on Saturday afternoon.
Chelsea play Everton at Stamford Bridge on Saturday evening. Look out for Lukaku to come back to haunt Chelsea and ruin their recent run of clean sheets.
Strikers
I had picked Manchester City's Sergio Aguero almost every week this season until last week when I dropped him and said that he would subsequently score a hat-trick. I was wrong…he only scored two. I'm bringing him back in and, hopefully, Guardiola doesn't decide he needs a rest.
Joining him in my front three are Diego Costa of Chelsea and Callum Wilson of Bournemouth.
This is the first time I've selected Wilson since his return from a horrific knee injury at the start of last season. He's decent value at only £8.5M.
Costa is back to the peak form he displayed when he first joined Chelsea. With Eden Hazard they are almost playing like a pair of old fashioned strikers. I'm sure he'll get on the score sheet against Everton.
My forward line last week managed only 8 points between the three of them. If Zlatan Ibrahimović was still playing now he still wouldn't have scored against Burnley despite having umpteen chances. Rashford and Benteke at Crystal Palace also failed to trouble the scorers, as they say in cricket.
My captain this week is the returning Sergio Aguero and my vice-captain is Eden Hazard.
I will be entering this side into the £150 progressive prize pot on Premier Punt, the entry fee is only £5. Feel free to try and take my cash. Judging from my last few weeks it shouldn't be too difficult.
Good luck and,
GET IN THERE!!!!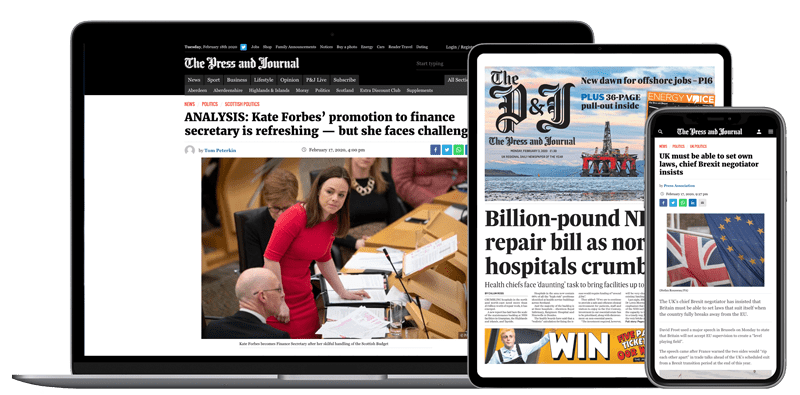 Help support quality local journalism … become a digital subscriber to The Press and Journal
For as little as £5.99 a month you can access all of our content, including Premium articles.
Subscribe