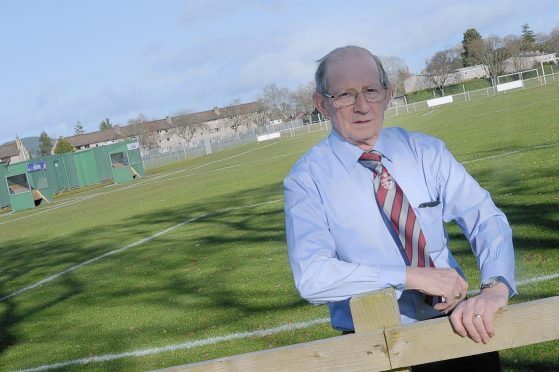 The future of the only junior football team in Inverness has been plunged into fresh turmoil after ground-sharing plans collapsed.
Inverness City FC face being made homeless just two months into the new season as the club will not be able to use the Grant Street Park home of Highland League side Clachnacuddin FC.
The two clubs had discussed joining forces to instal a £600,000 artificial pitch at the ground, which would also have been available for use by the Merkinch community.
But the move has now been abandoned after an apparent change in funding available from SportScotland left the scheme with a financial black hole.
Inverness City will now be made homeless on October 27 after council chiefs told the junior club last year that their five-year lease of a pitch at the Bught playing fields would not be renewed when it expires.
Alastair Wardhaugh, chairman of the North Superleague club, said: "We had agreed, and Clach had agreed and the Merkinch Partnership had agreed, to go down the road of getting a pitch installed at a cost of just over £600,000.
"The situation was that we were relying on SportScotland funding 50% of it and I think the consultant's report was that the balance could be got from the Common Good Fund.
"All these proposals were going to be put to the Inverness City Committee on Monday, but SportScotland changed their funding criteria and instead of funding 50%, its maximum would be £100,000.
"It would leave the project with too much of a shortfall. So we are back to where we were five years ago."
Mr Wardhaugh added: "I'm really disappointed. Our future is in doubt again.
"It just seems sad that Inverness, with a population of 80,000, can't provide something for that level of football."
The groundshare proposal and artificial pitch plan had proved controversial with many Clach fans, including former director Billy Corbett.
Welcoming the news, Mr Corbett said: "I wish Inverness City all good fortune, but Grant Street Park is rightfully the home of Clachnacuddin FC, as it has been for over 130 years."
In a post on Clach FC's social media page, chairman Alex Chisholm said: "I wish to update our supporters that due to developments outwith the control of the club we are no longer engaged in discussion with partners in respect of the installation of a 3G surface at Grant Street.
"We will continue to improve the club both on and off the park and would like to thank you for your loyal backing."
The council's Inverness City manager David Haas said: "We're very disappointed that is indeed the case. The council worked very hard with both clubs to find a solution but unfortunately, due to a change in SportScotland funding criteria, we're not able to take that forward."