Press and Journal sports reporter Jamie Durent is stranded in Glasgow after the postponement of tonight's Motherwell v Aberdeen match. 
The video above shows the view from his room window as the Met Office's red warning takes hold.
The midweek wipe-out of all SPFL fixtures should come as a surprise to no-one.
At the time I set off for Glasgow yesterday afternoon the Motherwell-Aberdeen game was on. Until hearing otherwise, I had to operate under that assumption, even if my assignment yesterday evening, Dumbarton v Caley Thistle, had bit the bullet.
Thankfully I had a hotel already booked so I had somewhere to hunker down for the night. Snow was relentless for the entire journey down from Aberdeen but was not laying on many roads, save for the 10 miles or so around Dundee which were treacherous at best.
Mercifully, the correct decision was made promptly this morning and the game, alongside all SPFL fixtures, were shelved. Kudos to Motherwell's chief operating officer Alan Burrows too, for keeping supporters informed on Twitter of any potential decision.
The benefits of social media highlighted by someone clued in to the needs of the modern fan.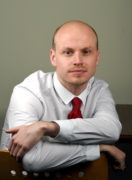 As I type this, the weather is a weird mix of cold sunshine and blizzarding snow, with the roads a white-washed marble that could make any fleet-footed ballet dancer look like a spread-eagled Bambi within seconds.
Each time we get storm fronts like this it appears it comes with the tagline of "worst in recent memory" or the like. As climate change continues to take effect, football as a whole will need to adapt and shifting to summer schedules, albeit not guaranteeing a disruption-free season, should certainly minimise it.
For now, it's over and out from Station Gamma Lima 12.