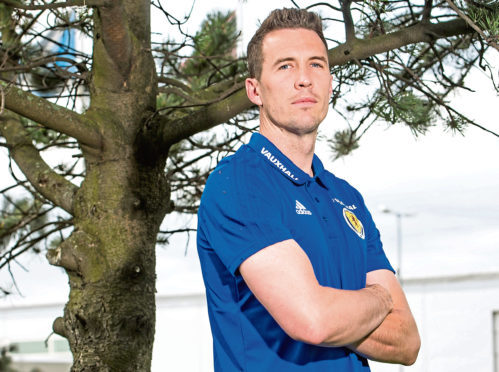 Jon McLaughlin has had a taste of international duty with Scotland and now hopes his appetite is satisfied in the post-season friendlies in Peru and Mexico.
The 30-year-old Hearts goalkeeper was called up for the first time by Alex McLeish for the friendlies against Costa Rica and Hungary in March but watched both games from the bench.
That experience has left him desperate to win his first cap for Scotland.
The first game is against Peru in Lima on May 29 before Mexico in the famous Azteca stadium on June 2.
"There is no need for extra incentive to play for your country but yes, getting your first involvement was a fantastic experience," said McLaughlin, who will not rule out signing a new contract with Hearts amid speculation he is set to return to England.
"It gives you a taste for it and makes you want to be involved as much as you can so it is fantastic to be involved again.
"This time, hopefully, there is even more opportunity to go out there and get some game time, to get caps and try to put your marker down for future squads."
McLaughlin was born in Edinburgh but moved with his family as an infant to Saudi Arabia before returning around 10 years later to Harrogate. However, before the shift to Yorkshire he began dreaming of playing for Scotland after watching on TV the 1998 World Cup finals in France where the Scots opened the tournament against Brazil before taking on Norway and Morocco.
The former Bradford and Burton keeper said: "I first started playing football properly in the Middle East and Peter Schmeichel was my hero as a goalkeeper. My dad and family are very proud Scots and always followed the team and before I left there, in the summer of 1998, it was the last time Scotland were in a major tournament.
"My dad, brother and me were out there watching them play Brazil and the others in the group stages, that was my first experience of supporting Scotland at a major tournament and dreaming of that kind of thing one day.
"When you get to 30 and you are possibly getting your first opportunity, it is a long time coming.
"But it is fantastic it has come along and shows if you keep working hard at your club that the opportunities can come at any stage of your career."
McLaughlin is in a relaxed frame of mind with regards to where he will be playing his football next season.
"The gaffer Craig Levein and myself have had conversations," he said. "They have made it clear that they are keen for me to stay but so far we haven't come to an agreement."