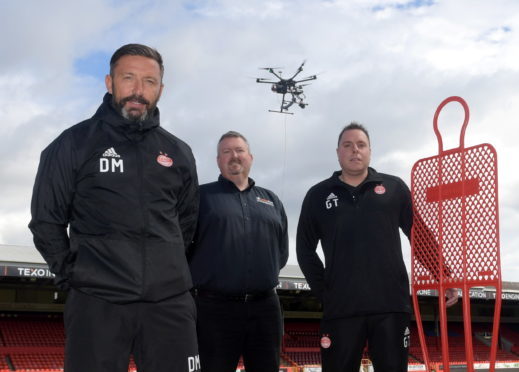 Aberdeen's season may not have taken off yet but their preparations certainly have done with the club bringing in drones to film training sessions.
In a partnership with sponsors Texo DSI, Derek McInnes and the Dons' performance analysis team will be able to rely on drone footage to shape their match preparations, in what is believed to be a first for football clubs in Scotland.
The club had a trial run with drones last season and have now brought in the equipment full-time, which McInnes is grateful for.
He said: "A lot of the bigger clubs, the main clubs in England, have been doing this for a while now. We now have that luxury and benefit with the relationship we have with Texo.
"Obviously the video feedback and analysis is very important to us and it is another part of our coaching tool that we can use to get better performance individually and also in terms of the team-work.
"We had a trial run with it last season and we felt the benefit of it. When you are doing a lot of your video work it can be specific one on one with part of the team. However with the drone, that can cover the full area. That is very important to us, especially when you are doing a lot of the shadow work and team work for a Saturday."
The players trained at Pittodrie yesterday where the drone was on show, courtesy of operators Texo. Feedback for the players from the captured footage will also be a huge advantage.
McInnes added: "Any little improvement we can have, all those little percentages, are important. For the coaches to then go in after training and look back on the session and reflect on what was good or bad. Sometimes it might be the difference of a team selection, a team shape or individuals within it.
"But once the players can see the feedback and exactly what we are talking about through the video work they will see it as a welcome addition. Players are honest and want to be the best they can be."