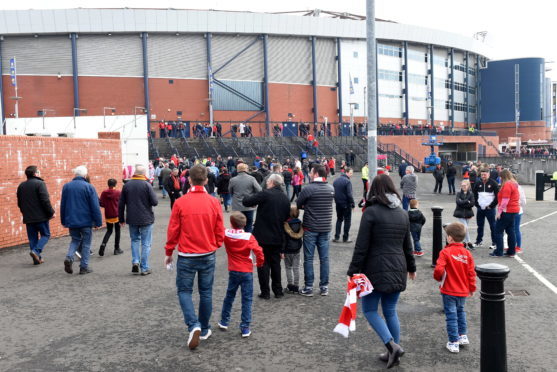 Aberdeen and one of its main supporters' groups have welcomed a rethink of the Betfred Cup semi-final arrangements.
It is understood the Dons game with Rangers could see its kick-off pushed back from noon and the Hearts-Celtic semi-final tie moved to Murrayfield, in a major reshuffle of the initial provisions made by the SPFL.
A noon kick-off was pencilled in for Aberdeen against Rangers, despite the first train from the Granite City not arriving into Glasgow until 12.14pm. Manager Derek McInnes and the club had condemned the plans, while chief executive Duncan Fraser said the SPFL seemed "hell-bent" on pushing through the double-header.
Police Scotland's assistant chief constable Bernard Higgins yesterday asked for the SPFL to rethink their plans, on the back of the concerns since Thursday and it appears a change is imminent.
Kevin Mackenzie, chairman of Dons Supporters Together, hopes the kick-off time will be looked at and hopes this brings about a more sensible solution.
He said: "If it could be played even an hour later – it's a big ask to get 20,0000 people to the south side of Glasgow for a 12 o'clock kick-off. We've had a lot of semi-finals at noon and I think fans in general are getting fed up with them.
"It probably shows what a farcical decision it was in the first place but they (SPFL) maybe deserve a bit of credit for coming to their senses, rather than digging their heels in."
A Dons spokesman last night welcomed the news, adding: "We have been asking similar to Police Scotland since last Thursday's meeting, in that having four clubs in the same city in one day is a recipe for disaster. As a club, ourselves and Hearts have been quite vociferous in wanting a rethink and if that happens, fair play to the authorities."
Ticket allocations were due to be decided early this week but have been delayed, due in part to the potential change in circumstances. The Scottish Police Federation had also spoken out against the proposals, while ScotRail said it had not been consulted prior to the announcement being made last week.
ACC Higgins said: "We're aware of issues and concerns that have been raised over the last few days about the date and venue of the League Cup semi-finals. As a responsible organisation and taking into account these public concerns, I think it sensible to discuss the issues raised with the SPFL and other stakeholders and I have asked the SPFL to look again at the transport plan so we can make a full public safety assessment."