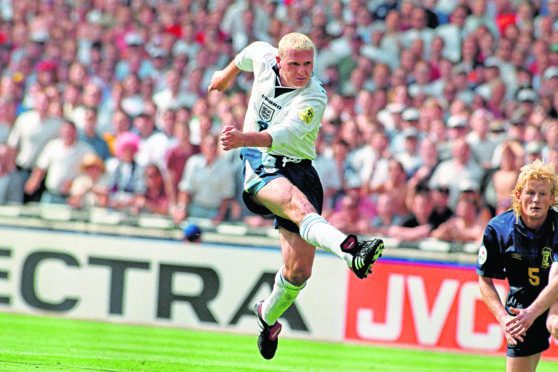 McCrae's Battalion was the affectionate name given by the people of Edinburgh to the 16th (Service) Battalion of the Royal Scots during the First World War.
They were raised from volunteers in 1914 and 16 players from Hearts enlisted, along with 500 supporters and ticket-holders.
Four years ago, there was hardly a murmur of dissent when the battalion was inducted into the Scottish Football Hall of Fame.
After all, these young men had joined the conflict as comrades and lived and – in too many cases – died together on foreign fields for their country.
They were heroes.
Sadly though, while Scotland's football authorities reached the right decision at the start of WW1, they appear to have taken leave of their senses as we approach the centenary of the end of hostilities.
How else do you explain the decision to grant Paul Gascoigne the same distinction as the men of the McCrae's in the SFA Hall of Fame?
It isn't just that the Englishman's career was shrouded by controversy, on and off the pitch. Plenty of other football luminaries have been involved in brushes with the law, and struggled with everyday reality.
But Gascoigne was somebody who didn't so much cross the line during his time at Rangers as become a byword for notoriety.
There was his brush with sectarianism, his air flute-playing to the crowd and his problems with alcoholism. Once again, this isn't unique in the annals.
But Gascoigne was also a convicted wife-beater, which rather contradicts all the messages the SFA has been trying to send out about being committed to promoting an all-inclusive, family-friendly sport.
By the by, his most famous goal just happened to be against Scotland at the European Championships in 1996.
And while other non-Scottish players, such as Brian Laudrup and Henrik Larsson have gained a place in the SFA pantheons, their careers were unsullied by dark blemishes. On the contrary, they were a true credit to the game.
That's before we even consider the merits of those homegrown players who are not in the mix. Joe Harper, for instance, the King of the Beach End, who is a football icon in the north east.
Or Neale Cooper, whose premature death cast a pall over Pittodrie and further afield this May.
After all, how many other Scots have enjoyed such tremendous success on the European stage as "Tattie" did with the Dons in 1983?
The SPFL and SFA have stumbled from one self-inflicted own goal to another in recent weeks and it is hardly surprising there was widespread disbelief at the news about Gascoigne.
It might be that the governing body is running out of players who deserve inclusion among the greats.
But that still doesn't justify allowing Gascoigne admission to the ranks.