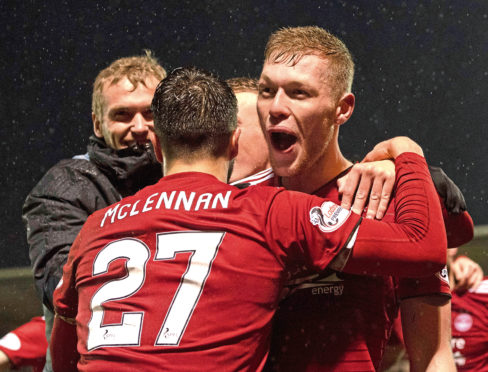 The Ballon D'Or may not be in his grasp just yet but Sam Cosgrove has relished in the spotlight of being Aberdeen's leading man.
Popularised by a terrace chant that puts him among the pantheon of modern greats, Cosgrove has endeared himself to the Dons public with a series of not just goalscoring performances, but boundless drive, aggression and no shortage of hard work.
His propulsion to cult hero status will have taken many by surprise, but speak to those who have worked closely with him and you learn a tale of someone who has taken his scrapes along the way, is a diligent learner away from football and still has the potential to improve greatly.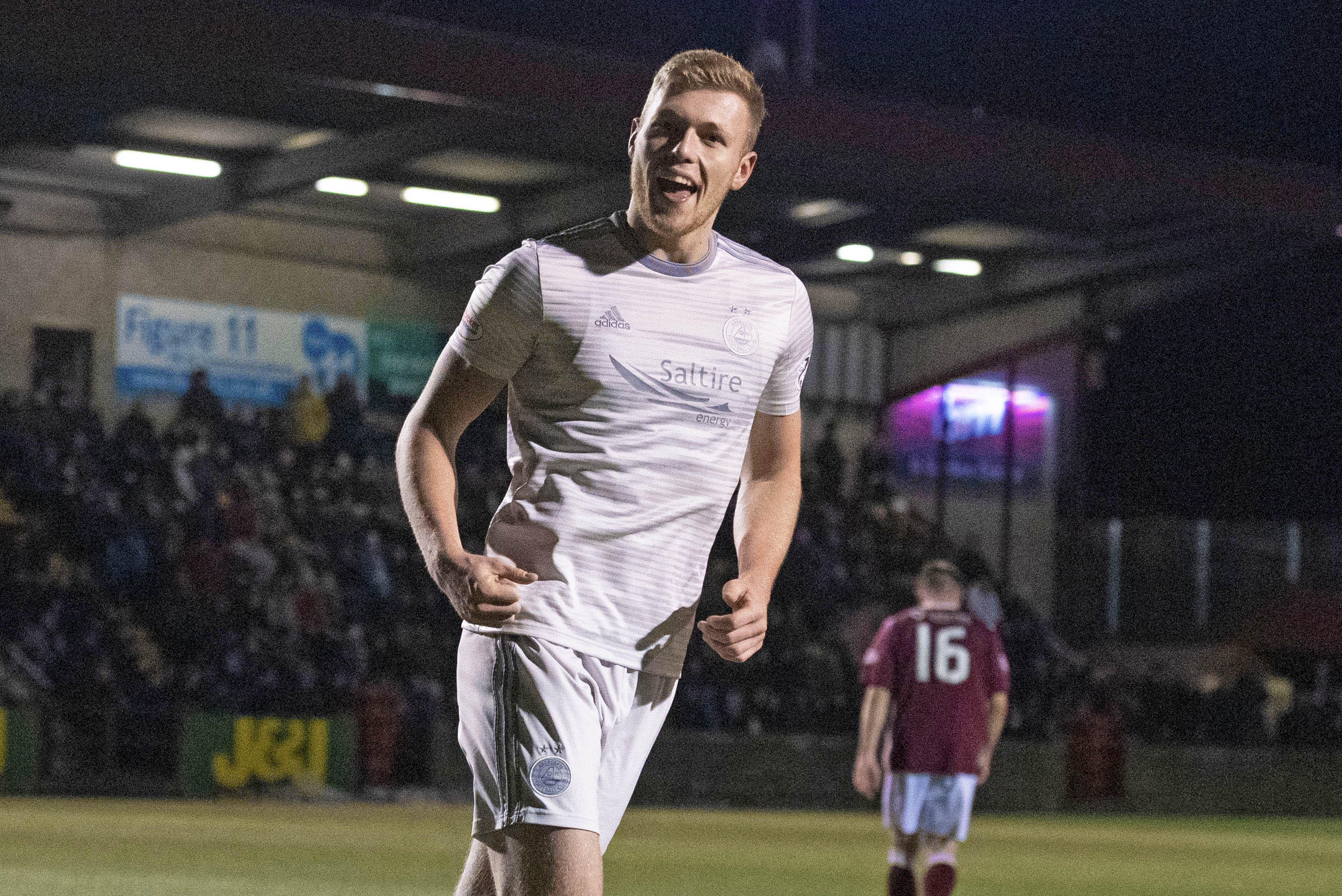 Aberdeen manager Derek McInnes speaks of Cosgrove being several years behind in his development, due to his lack of first-team football, so the early signs of his burgeoning career have been promising.
What has underpinned this turnaround? I looked at his performances and goals this season to see how Cosgrove has transformed his and Aberdeen's fortunes.
Athleticism
When Cosgrove arrived from Carlisle for a paltry £20,000, he looked ostensibly a target man, designed to ruffle feathers and win knock-ons but little more. However, a full pre-season with the Dons has clearly paid dividends for his all-round game.
Cosgrove now covers ground a lot more smoothly and is a greater asset when Aberdeen press from the front. His aggression comes into play here and he is certainly not afraid to assert himself against opposing defenders, in an effort to regain possession.
His second goals against Dundee and Hamilton were evidence if this improved physique and quickness of stride. He is able to collect the ball comfortably and move at speed, advancing towards goal before delivering two contrasting finishes. Against Dundee he goes for power and precision, finding the bottom left corner from the right, while it is the opposite against Hamilton as he opens his body up to shape the ball around the goalkeeper.
Knowing he is not just a player that will be the target of long balls, but also a dangerous asset on the counter, will make him harder to gameplan against for opposing defenders. He brushes past Ziggy Gordon with consummate ease for his second against Hamilton and his first two touches for the Dundee second – a deft left to control and a touch from the right to turn – allow him to drive into space in full stride.
Influence of Stevie May/Connor McLennnan
It is no coincidence that since both Stevie May and Connor McLennan have been regular starters since the start of last month, Cosgrove's fortunes have been transformed.
His partnership with May is perhaps underrated but is one that is clearly bearing fruit for Aberdeen. May has greater craft and guile and drops deeper, giving him greater perspective of the penalty area and where Cosgrove is. May has set up two of Cosgrove's nine goals, both with floated crosses into the box that the six-foot-two striker has got his head two. The first, against Hearts, went straight in, while the second against Hamilton came after Cosgrove responded to his own rebound.
McLennan also has two assists in Cosgrove's goalscoring run, against Dundee and Livingston. His delivery into the box has been an enticing end product to some flashy footwork on the wing, which has given Cosgrove something to feed in. Both come from crosses from the right to the centre of the box, where Cosgrove can attack it from the back post. It highlights a more clinical instinct from the striker and gives credence to Gregor Rioch, his former head of youth at Wigan Athletic, who predicted he would score goals when he had crosses to attack.
Confidence and intelligence
Inevitably, confidence comes with goals and his second against Hamilton was evidence of that. Rewind to the start of the season and you would struggle to see Cosgrove picking up the ball on the left flank, driving at opposing defenders before calmly rolling the ball into the far corner.
But the intelligence in his play should not be underestimated. He has a habit of putting himself into match-ups he knows he will have the physical upper-hand in. He out-jumps Christophe Berra for his first against Hearts, peels off Steven McGinn easily for the winner against St Mirren then gets the better of Dougie Imrie for the opening goal against Hamilton.
It is not just scoring where he benefits Aberdeen. His run towards the near post against Livingston dragged Craig Halkett away from the centre of the goal, where Lewis Ferguson was able to turn home the acrobatic winner. His aerial threat is being respected by the opposition to their own detriment.
Faith of the manager
Cosgrove featured in some of Aberdeen's biggest games of 2018. He was given the lone striker role against Celtic at the end of last season, where the Dons won 1-0 to seal second spot. He was then given the nod to lead the line against Burnley in the Europa League, earning rave reviews for his performances against England defender James Tarkowski.
Again, he was given the mantle in the Betfred Cup final against Celtic, up front by himself. He understands his role is to help get Aberdeen up the pitch and given them an out-ball, in contests where they expect to be on the losing side of the possession battle.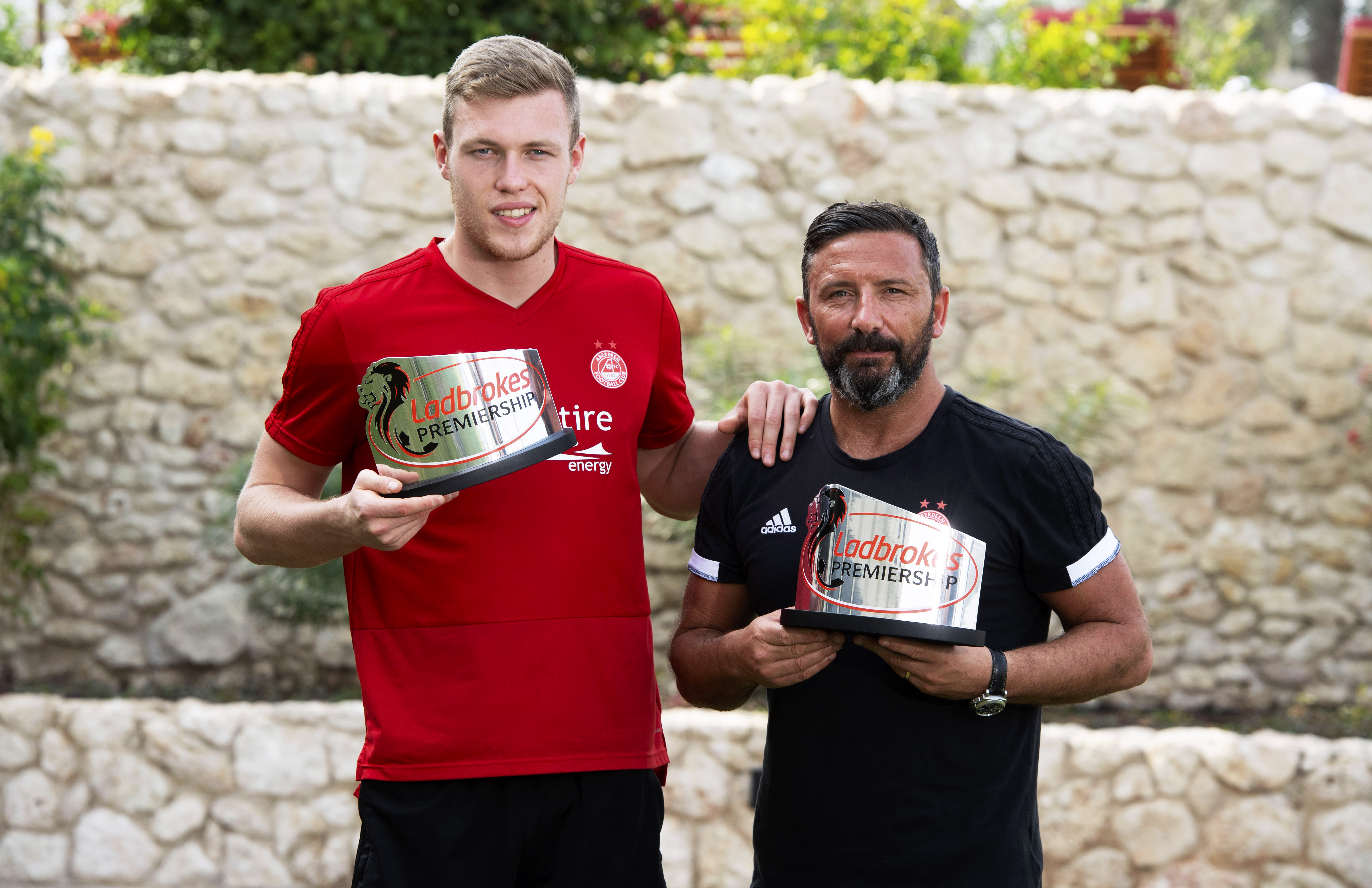 He can be seen as somewhat of a defensive forward in that respect, in that his forward play helps protect Aberdeen's backline, but he has blossomed into more of an attacking threat when McInnes has preferred two up top. In greater context, Cosgrove has become a multi-faceted forward that suddenly, from being a peripheral prospect at Pittodrie, Aberdeen could scarcely do without him.