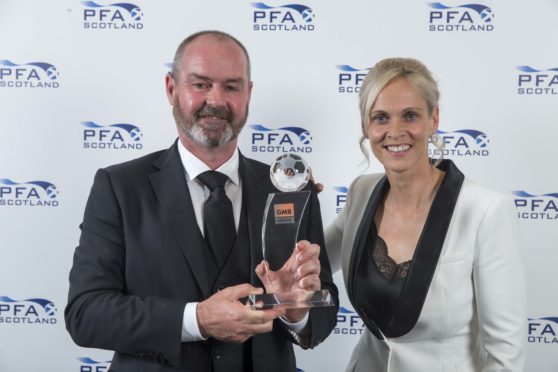 Scotland women's manager Shelley Kerr feels she can benefit from the appointment of Steve Clarke as the new men's national team boss.
Clarke was yesterday unveiled as the new Scots' boss, with his first game at home to Cyprus on June 8.
Kerr is preparing Scotland's women's side for the first World Cup campaign of their history, which begins the following day against England in Nice.
The 49-year-old believes regular dialogue between herself and Clarke can help the pair thrive in their respective roles, and she said: "I think it's about having an integrated approach to everything we do with all the national teams.
"I am really looking forward to picking his brain, chapping his door and asking for some advice, hearing all about his own career and how he has developed as a coach.
"I think that's the place you should be, tapping into other people's knowledge and expertise.
"He has obviously got a couple of big games coming up, and I have as well.
"The important thing is sharing that knowledge and best practice. For me, the message is the same – trying to urge the country to get behind the national teams, whatever national team it is.
"It is good to be in a position where you've got both managers that are able to go and chat about football together, and have the respect for each other.
"That's just common practice."
Upon his own appointment Clarke complimented the job done by Kerr since she replaced Anna Signeul as women's national team boss in 2017, citing her achievement as inspiration in his own bid to end a 22-year absence from a major tournament.
Kerr hopes Clarke can succeed, adding: "It's nice to hear, and very kind words, but I would replicate that about him as he's very knowledgeable about football. Whether it's man-management or the tactical elements of the game, he's a fantastic appointment and a popular appointment.
"It's not just on popularity, but on expertise he has the right skillset to take the national team to a finals."