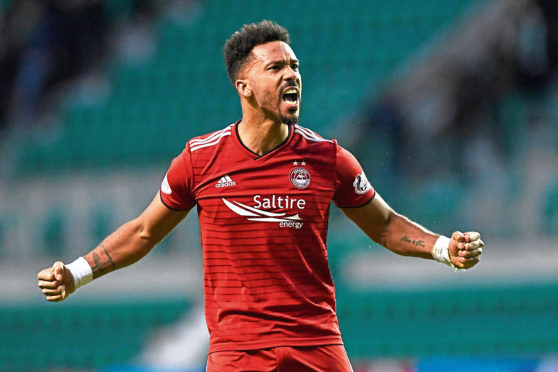 Shay Logan has never been one to let things go.
An outspoken character, the Englishman has not been slow to call out incidents he believes need addressed.
Given he is a player who has suffered racist abuse on the pitch, no one should be surprised that he is willing to stand up for himself.
In a now infamous and dreadful episode in recent Scottish football history, the Aberdeen right back was racially abused at Celtic Park by Celtic player Aleksandar Tonev during a game in 2014.
If Logan hoped the seven-match ban for Tonev would be the end of the matter, he was mistaken.
As recently as this Wednesday he was being trolled on social media about the incident from five years ago, but he is not a lone voice.
A Manchester City fan and former youth player with the English Premier League champions, Logan watched City's Raheem Sterling urge players to call out racism in 2019 and, while grateful to see more players taking a stance, he is still dejected that anyone believes it is OK to use the colour of his skin as an attempt to insult him.
He said: "It's mad for me. It's getting to the point where people are praising Raheem Sterling for taking a stand against racism but he shouldn't have to do that.
"It shouldn't be a thing but it is and he is at a platform where he has so many followers online and so many more followers because he plays for the biggest club in the world and is up there among the top players in the world.
"People listen to players like that but racism is never going to stop. How can it? If you are in the vicinity of 70,000 people and one person decides to be racist, how can you stop it? If it's not him it will be someone else."
The Aberdeen defender, who will return for pre-season training next week, remains baffled as to why football is so often singled out as being a root cause.
He maintains the issue runs far deeper than football but insists he will not tolerate racial abuse on or off the pitch.
He said: "In some instances it's where a person has been brought up or what they have been taught but mostly it's stupid people who just want to say the worst possible thing they can because Raheem scored a goal against their team and they lost.
"Instead of calling him an idiot or whatever they mention his colour as they think it's the worst possible thing to say to somebody.
"I don't think it will ever be stopped. What are you going to do? Ban the guy from a ground? He'll just go to the pub and do it there or his mate will take his place and shout the same stuff."
Recalling the Tonev incident, Logan added: "I can't say it is just a societal thing as where I grew up it didn't happen. I go step on a pitch then receive it, not from a fan, but from a fellow player who has black people in his team? It doesn't make any sense.
"He made a decision to say something and a lot of the time people feel hurt and respond with what they think is the most hurtful thing they can say at the time.
"Do you know what? It's not hurtful to black people. I always say, would they say that to me on the street?
"You say it on the pitch I can't do anything about it.
"Say it to me in the street, it's going to end up in a fight. It's easy to say on the pitch as I can't do anything.
"People make their choice, it doesn't matter where they come from."