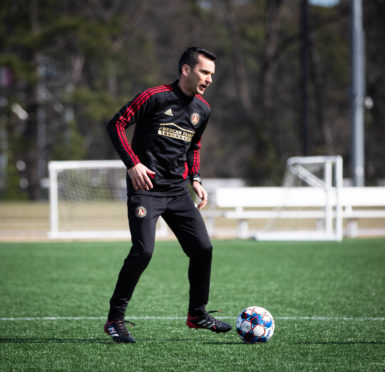 Stephen Glass aims to keep it simple as he takes charge of his first game as interim head coach of MLS side Atlanta United.
The former Aberdeen midfielder, who has been with United since August 2018, has been promoted to the role of first team boss from Atlanta United's second team following the departure of Frank De Boer last month.
It's a huge role for Glass and a challenge he had not anticipated taking on but having been given his chance to show what he can do the 44 year-old Dundonian is determined to make the most of it.
He said: "I know the expectations here. It has to be attacking, I think people will like what they see from my team when they do see it. I'm not big on describing philosophies or stuff like that, I think you start sounding like trying to be cleverer than you are.
"As a coach, I try to squeeze as much out the players as they've got. I've got a great group of players here and obviously we fit into the club's philosophy or I wouldn't be here in the first place.
"It is an opportunity.  The leadership of the club have shown faith in me that I can handle this.
"I get something that nobody else gets, I get to work here and show I can handle a team of this magnitude.  That is all I am taking it for at the moment.
"I have an interim tag and that is where we are at the minute.
"I don't decide who the next Atlanta manager is but I can make it very difficult for the leadership of the club to pick someone else."
Atlanta return to action on Saturday with a phased schedule when they face Nashville in what will be Glass' first game in the dugout although, like Scotland, there will be no fans present in the Mercedes-Benz Stadium.
It is the start of a busy schedule with matches against David Beckham's Inter Miami and Orlando City to follow before the six-game run ends on September 12 at Nashville.
Glass said: "At this moment there are six games scheduled, we have three home and three away against some fairly local teams.
"I say local but in Scotland and England you are talking about a bus journey. Here we are talking about a flight to Miami or Orlando.
"If you were to drive it would take seven hours to get to Orlando or 10 or 12 to get to Miami. It involves a lot of travel and a lot of travel on the day.
"We have to be brave on the road and take care of the home games.  I believe they are going to expand to the East Coast after that.
"There are 12 games or so and that would be the regular Eastern Conference ahead of the play-offs."
Glass' elevation to first team coach is the culmination in a well-travelled path from Pittodrie but it is one which has not been meticulously planned.
If it feels right, he commits. If it does not work out, he is not averse to changing course quickly.
He said: "It has been a bit of a long journey actually.
"I played the last year of my (playing) career in North Carolina. Well, I'm saying I played, but I was on the bench probably for seven or eight months and then that was me done. I got injured and had to wrap things up at 35.
"I came back to the US, have been here probably for seven or eight years now and have gone through various levels before ending up at this great club.
"It has been a bit of different journey from that taken by other people but I have picked up a lot of managerial stuff along the way in terms of looking after big numbers of teams and big numbers of people, with all the different personalities.
"Along the way, I have also been able to understand American culture as well, which is important.
"If you come here for the lifestyle you get found out pretty quickly, I think."
That understanding of American culture is one Glass hopes will serve him well on his biggest coaching challenge to date.
He will be flying the flag for Scotland, an honour he takes seriously, but the Dundonian has no idea whether his long-term future lies across the Atlantic.
He said: "I think any time a Scottish manager or even a Scottish person is doing well in another country it's good.
"Hopefully, if I'm successful then it's something that people can look at and enjoy from afar.
"Obviously your family can do that anyway but there is a history of Scottish managers going away and doing well.
"Obviously, it's on an interim basis at the minutes so we'll see how it goes but I think anybody who is Scottish likes to do well abroad."
As for whether he will one day return to his homeland for a role in the dugout Glass is not ruling it out.
He said: "I wouldn't rule it out.  The way I approached my playing career I did the best I could and from there I saw what happened.
"If you say you want to manager this club or the club and you look at jobs that are not open then you start to disrespect the club you are at.
"I have an opportunity here that is unbelievable, that is my sole focus.
"I have always said I would go home for the right job at the right time but at that time I never thought I would get the opportunity to manage the first-team here, which has now presented itself.
"I would stay here for the right job at the right time and it is one of them where we will see what presents itself at any given moment.  It is a case of seeing what is there at that moment and then you deal with it."