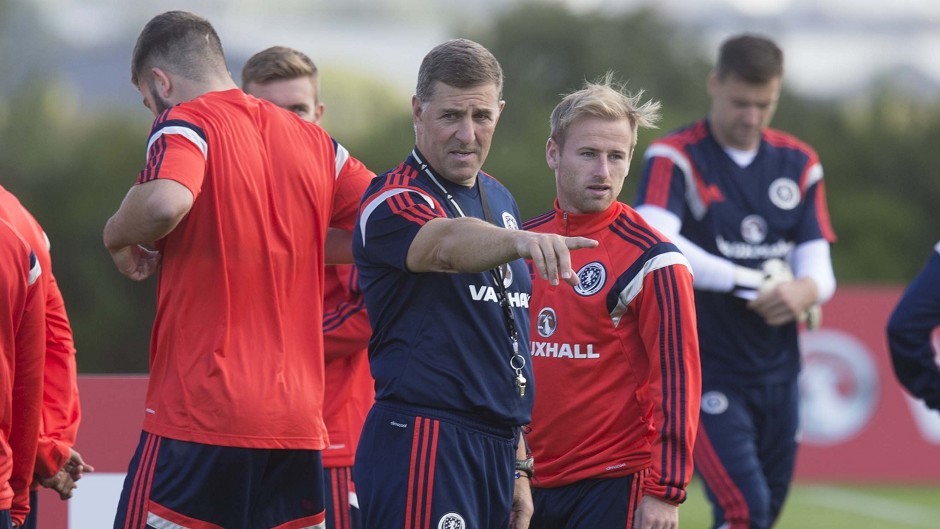 Assistant manager Mark McGhee has vowed
Scotland will go on the attack against Georgia in
Saturday's Euro 2016 qualifier at Ibrox.
Gordon Strachan's side is yet to get off the mark in Group D, having lost 2-1 against World Cup winners Germany despite an excellent performance in their opening match last month.
Everton attacker Steven Naismith led the line that night in Germany, however the form of the other three forwards selected by Strachan has also been encouraging.
Sunderland's Steven Fletcher scored twice against Stoke City in the Premier League on Saturday, Chris Martin has netted seven times for Derby County this season, while Stevie May has made a promising start to his Sheffield Wednesday career in the Championship since moving from St Johnstone.
Former Aberdeen manager McGhee reckons confidence is high among the forwards and has backed them all to take their chance to defeat the Georgians. McGhee said: "We feel we've reached a stage where we have the chance to score more goals than we have recently.
"Scoring against Germany in the style we did gave us great encouragement.
"And we could have had a couple more.
"We feel there are goals in the team. Steven Fletcher is coming here feeling great about things. He was out of the squad completely but should be in a fantastic frame of mind.
"Chris Martin and Stevie May are scoring goals. It's always great to be coming in full of confidence."
While little was expected of the Scots in their opening game the same cannot be said for the next two matches against Georgia and Poland.
McGhee knows expectations are high but insists the national team is relishing the task. He said: "The second half against Germany encouraged us, and we can't be afraid of pressure.
"We want to be in the finals in France, and we can't baulk at that.
"If we want to qualify we have to start winning games and there's no better place to start than a home game at Ibrox.
"There will be twists and turns along the way regardless of what happens on Saturday night, and at the end of it we want to qualify – whatever it takes."
Scotland are looking to qualify for their first major tournament since 1998 in Strachan's first full qualification campaign, with the former Celtic manager taking charge midway through the quest to reach this summer's World Cup.
McGhee does not believe the current regime felt entitled to any leeway after inheriting a struggling side which had picked up just two points from four games, before consecutive defeats to Wales and Serbia rendered qualification impossible.
He added: "I don't think we needed, demanded or expected a honeymoon period. Because we were just in the job we were forgiven a lot, which was great because it allowed us to develop things.
"The two of us were devastated when we came back from the Serbia game. Not just because of the nature of the performance, but because when we took over there was still a chance of us qualifying. We take part of the responsibility for not qualifying in the last campaign, so it started for us the day we arrived."
"I think we've been big enough to accept that responsibility, so it doesn't start now. It started then, and it has continued.
"One of the things I've majored on is the performance. I've talked about consistency of performance and what we achieve. That's where our priority remains.
"We want to maintain our level of performance and see where it takes us. We've got to this point by what has happened before, so it doesn't start on Saturday night."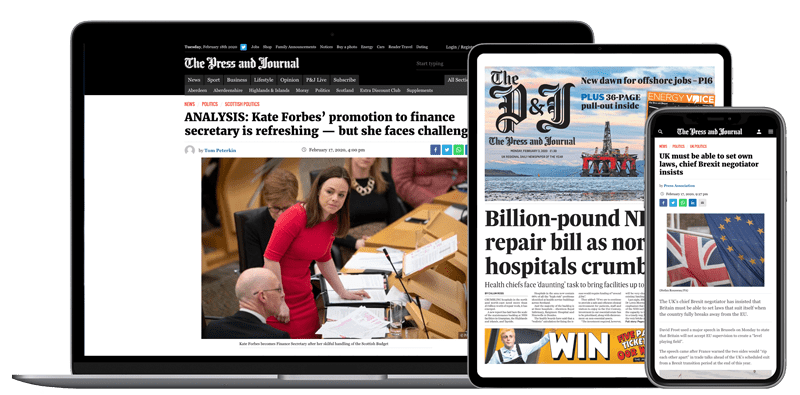 Help support quality local journalism … become a digital subscriber to The Press and Journal
For as little as £5.99 a month you can access all of our content, including Premium articles.
Subscribe