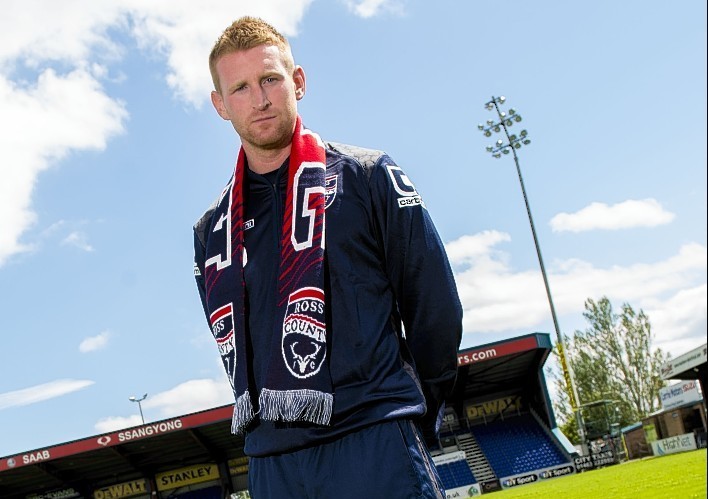 Ross County defender Chris Robertson has no regrets about leaving his family behind in England to join the Staggies.
Robertson made the move to Victoria Park this summer after leaving Port Vale at the end of last season, with the Dundee-born defender returning to Scotland, where he left at the age of two when his parents moved to Nottingham.
Having spent his entire career in the English lower leagues, with Sheffield United, Torquay United and Preston North End, Robertson, pictured, was keen to test himself in the Scottish Premiership for the first time.
Robertson suffered a broken hand in pre-season and started the season on the bench, but he has been given his opportunity in County's last two matches following a neck injury to fellow defender Scott Boyd.
The 28-year-old is convinced he has made the right move, and is determined to prolong his stay in the team.
Robertson said: "I've not really had the chance to come up to Scotland before.
"This summer I had a couple of teams from this league, and other options in League 1 in England. I could have stayed and it would have been a bit easier for my family and my girlfriend. Meeting the manager and seeing the club made my mind up really.
"It's a new challenge, a new league. I wanted to give it a go and see what it's all about. I'm enjoying it, at the moment it's the right move.
"I had a little setback with my hand injury, but that's probably good because I'm still getting settled in the area, and it means I can't do any lifting.
"If I get the shirt I can only do what I'm asked to do.
"Competition for places is what we want in the team. It's going to spur us on to do well.
"If Scott comes in, I'll expect the same from him. It's a team game, and we want to finish as high as possible and get as many points, and as many bonuses as we can. I've been enjoying it, and when I enjoy it I seem to do well.
"The team we've got is a good set. I didn't know how I was going to find it, as I've never played in the Scottish Premiership before, but from what I've seen so far there's nothing to be afraid of. Hopefully we can shoot up the league by getting the final ball right and taking our chances."
Robertson said the offer of a wage cut at Port Vale last season cast thoughts on his future away from Vale Park.
Robertson added: "I was offered a new deal by the Port Vale chairman in November, but I said I would give my all for Port Vale and if we couldn't come to an arrangement I would move on. That's football. Since I left, I know there's been another four or five leave as well. Fair play, if the club want to do it that way that's their decision."