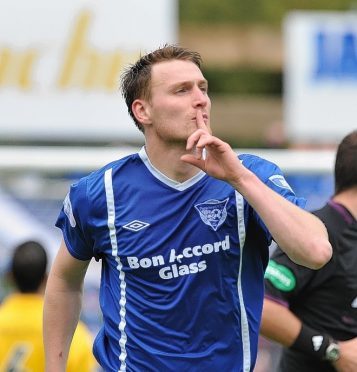 He is the footballer who has blazed a trail through the lower leagues of Scottish football for the past seven years, but it seems the chances of Rory McAllister playing full-time football again have gone.
Is it due to a lack of ambition on his part? Not at all. In fact, one could argue it's basic economics which have kept one of the most consistent scorers in the SPFL plying his trade for Peterhead.
The former Aberdeen youth team player did enjoy a brief taste of full-time football as a teenager with the Dons and then at Caley Thistle, but it was not until he moved to Brechin City in 2009 that McAllister began to realise his true potential.
Having found regular football at Glebe Park, McAllister not only settled quickly into the part-time game, he thrived.
In scoring more than 50 goals in two years at Brechin McAllister had suitors, with St Johnstone among those considering offering him a second chance at forging a professional career.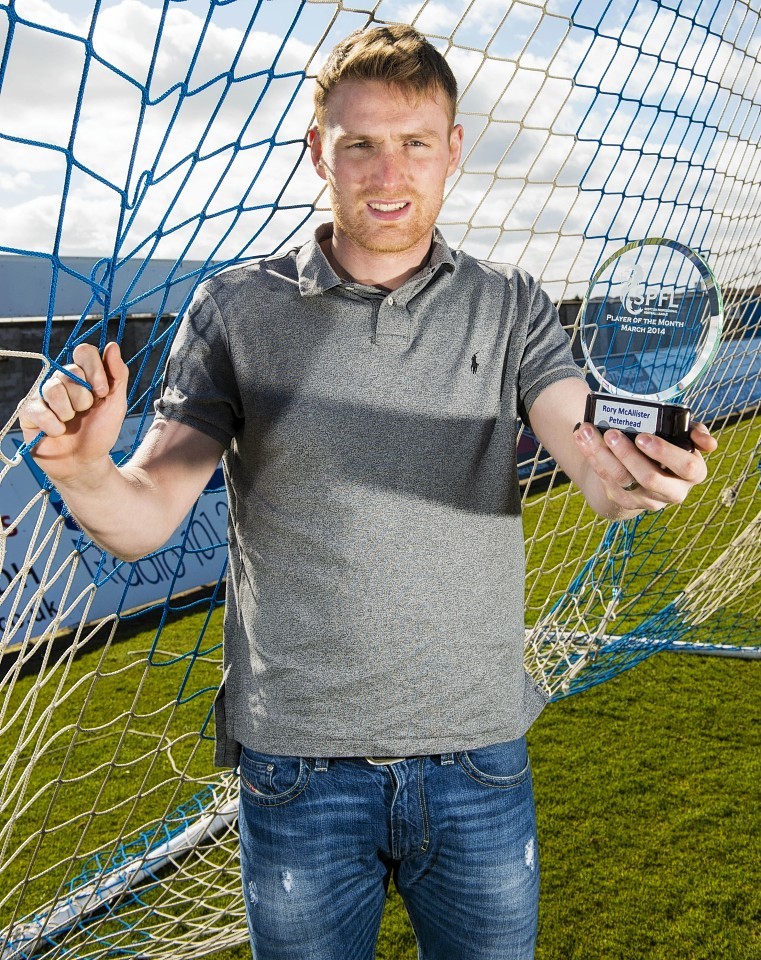 But the offer never came and now, at the age of 28, it is unlikely it will.
Not that McAllister seems to be giving it a minute's thought.
Last summer the Aberdonian dismissed any thoughts of changing his part-time football career.
He said: "Going full-time doesn't interest me, I don't have the motivation to go full-time every day.
"I am happy playing part-time, it has been my life for a while now.
"I'm not going to take a pay cut to go full-time."
McAllister, a time-served heating engineer, does not need a full-time wage and is loathe to walk away from a good job outside of the game.
Blue Toon manager Jim McInally is still astounded he can call on the forward's services every week and it is not hard to share his sentiment.
A remarkable 51 goals in two seasons for Brechin drew a crowd, but it was Peterhead who won the chase for his services in July 2011. Former Blue Toon manager John Sheran was elated at landing a player he regarded as one of the best free agents in the lower leagues in the country.
Sheran said: "For Peterhead to secure his signing is a great achievement. There was stiff competition for Rory's signature from SPL and English sides. He had many offers to return to full-time football."
With 111 goals in the past four and half seasons for the Balmoor club it is obvious the signing of McAllister is one which paid off handsomely for the Blue Toon.
His 23 goals in 26 appearances so far this term, which included a stunning five-goal haul against Falkirk in the League Cup in August, had put him one goal ahead of Rangers forward Martyn Waghorn in the race for the Golden Boot in Scottish football, but Waghorn's hat-trick in Rangers' 5-1 Scottish Cup win against Cowdenbeath on Sunday has put him two goals ahead of McAllister.
In Europe's leading leagues only Real Madrid's Cristiano Ronaldo, Bayern Munich's Robert Lewandowski, Luis Suarez of Barcelona, Bayern's Thomas Muller and Pierre-Emerick Aubameyang of Borussia Dortmund can better McAllister's goals tally so far with Lewandowski and Muller's 29 and 25 goals for the Germans coming from 30 matches.
McInally rates McAllister highly and he admits to still being amazed the 28-year-old, who has averaged 24 goals in the last six and half seasons, is in his squad.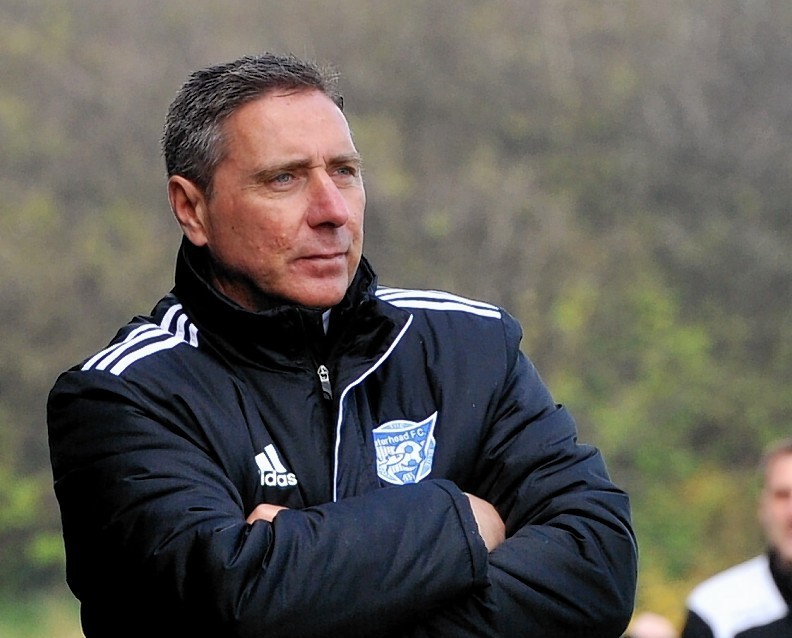 He said: "I've said it until I'm blue in the face that I'm still surprised I haven't had a phone call from anyone wanting to sign him.
"That said, I don't worry about it as I'm delighted to have Rory at Peterhead, but I'm amazed nobody comes in for him.
"He has scored 111 goals for Peterhead in four seasons, which is pretty remarkable, and you would think somebody would look at the scoring charts and realise he can play.
"He didn't have as good a season last year where he only scored nine, but he has come back fitter this year and it shows.
"As I said, I can't understand why he is not a target for other teams but it's to our benefit that he's still here."
McInally believes Mc-Allister's success is due to the fact he is settled at the Blue Toon and enjoys the balance of part-time football with his career.
But that has not stopped the Peterhead manager from trying to get McAllister a move to a higher level. Despite his best efforts no club has taken a chance on the player, not that McInally is complaining.
He said: "I've said before I'd like to see him have a shot at playing at a higher level as I believe full-time football would really bring out the best in him and he would do himself justice in the top flight in Scotland.
"I told Jackie McNamara when he was at Dundee United to take him down for a week's training and said the same to Ally McCoist when he was at Rangers, especially when they were in our league as I thought he would have scored a load of goals for them, but they didn't take me up on the offer.
"He is prolific but the number of goals he has had a hand in this season is incredible and there is so much more to his game than just being good in front of goal. It's not just goals that he brings to the team. By his standards last season was a blip but he has come back fitter and stronger than ever this season and has been outstanding.
"Two years ago he was the leading scorer in Britain with 33 goals, but I guess he must have a reputation for something I don't know about as nobody seems to listen when I talk about him. That's fine by me and if it stays that way I'll be more than happy."
It would seem McAllister is more than happy with that arrangement as well.
How Rory McAllister compares to other forwards in European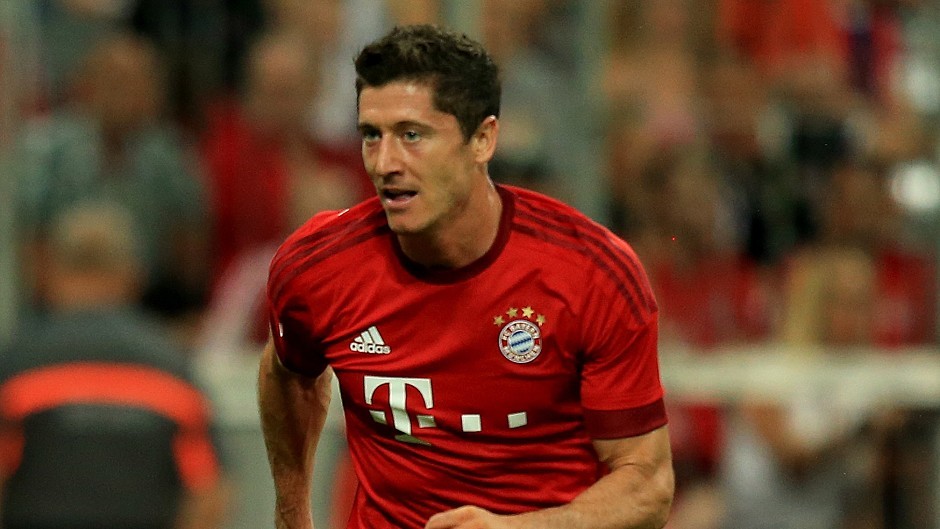 Rory McAllister (Peterhead): 23 goals in 26 appearances
Cristiano Ronaldo (Real Madrid): 25 goals in 27 appearances
Pierre-Emerick Aubameyang (Borussia Dortmund): 24 goals in 23 appearances
Zlatan Ibrahimovic (Paris St-Germain): 23 goals in 29 appearances
Robert Lewandowski (Bayern Munich): 29 goals in 30 appearances
Thomas Muller (Bayern Munich): 25 goals in 30 appearances
Luis Suarez (Barcelona): 26 goals in 28 appearances
Martyn Waghorn (Rangers): 25 goals in 27 appearances
Rory McAllister through the seasons
2009-10: 26 goals in 41 appearances Brechin City
2010-11: 25 goals in 39 appearances Brechin City
2011-12: 22 goals in 37 appearances Peterhead
2012-13: 23 goals in 40 appearances Peterhead
2013-14: 33 goals in 35 appearances Peterhead
2014-15: Nine goals in 35 appearances Peterhead
2015-16: 23 goals in 26 appearances Peterhead