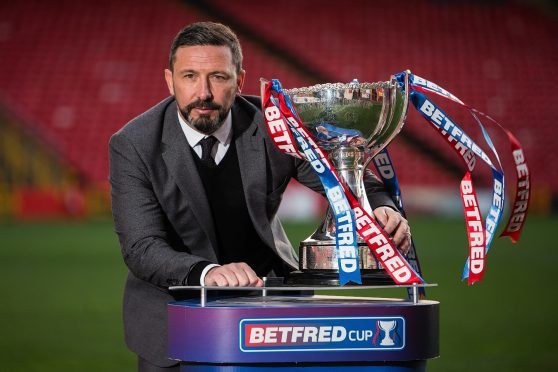 Aberdeen manager Derek McInnes believes beating Celtic at Hampden tomorrow will do more than bring the Betfred Cup back to Aberdeen – it will also highlight the first chink in the armour of Celtic.
No club has bettered the Scottish Premiership champions domestically this season and the Dons must become the first Scottish team to do beat the Hoops if they are to bring the League Cup back to Aberdeen for the second time in three seasons.
That is why McInnes believes tomorrow's showpiece occasion at the National Stadium is about so much more than simply winning a cup final. It's about galvanising his players and inflicting the first significant blow to the Hoops, who are talking about the final as being step one on their journey towards the treble.
The Dons manager said: "A win would have an impact on our season. Someone has got to lay a glove on them at some point, plant a seed of doubt.
"We've got to try to do it in a cup final. To have any impact on Celtic not having it all their own way in the league, someone's got to do it to them in the league.
"They have met all the challenges they have faced so far and done it confidently with a bit to spare. I don't think any of their wins have been lucky. Even their two wins against us; as much as we were still in the game and we had opportunities, there is no doubt they deserved to beat us. So we've missed a couple of opportunities.
"It's important that we go and take our opportunity on Sunday."
In a week where former Celtic manager Ronny Deila revealed he suffered panic attacks last season due to the stress of the job McInnes, while hugely sympathetic to the Norwegian's plight, believes it was his side which was the reason for the former manager's plight.
He said: It's a shame to hear that and it just shows how the job can consume you and people handle it a different way. It is not nice to hear that but I am sure he is not the only one.
"I think without question the two victories here, above all, planted that seed of doubt in them. They knew they had a challenge. They felt it.
"While we had good results and consistent results all over the country last season and the year before, it was the games last season when we beat them that had a significant impact on them.
"For us we need to plant the seed of doubt in Celtic on Sunday. That means starting the game well, being strong and being as good as we can be."
Had the Dons been facing Deila's Celtic then Aberdeen's confidence would surely be even higher for tomorrow's game but the impressive start under new manager Brendan Rodgers makes for a more daunting challenge for Aberdeen.
McInnes, while respectful, remains bullish about his side's prospects.
He said: "We recognise the strengths of Celtic and their capabilities and how good a side they are.
"Their improvement is clear. They have made good signings that I don't think could have been made without having the manager in place.
"Those players came for loads of reasons but predominantly because of the manager. The improvement is clear in them. As a club we need to make our own improvements but there's no doubt when you have the chance to make an impact on them you need to take it.
"It's been quite surprising they've not won a treble in the last few years. There always seems to be talk that this is the year for a treble and Brendan has been quite clever in playing that down. Others maybe spoke it up and took that responsibility on.
"Given the consistency in the league and the vast difference in resource and what they can do, it is probably surprising they haven't managed to win a treble in the last few years.
"But they will see this as a first trophy, as we do."