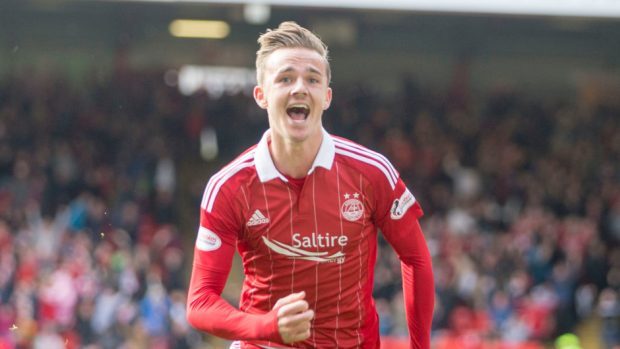 Aberdeen manager Derek McInnes hopes he can lift the gloom after the League Cup final loss by extending James Maddison's stay at Pittodrie into the second half of the season.
McInnes, speaking to shareholders at the club's annual meeting last night, expressed his desire to keep the on-loan Norwich City midfielder at the club beyond January and revealed the player is also keen to extend his loan at Pittodrie for the rest of the campaign.
The final decision rests with Norwich City manager Alex Neil but McInnes is hopeful he can secure the 20-year-old for the rest of the campaign.
Asked if there was a chance of Maddison staying, the Dons manager said: "There is a possibility. It's not something we can go poking at just now as Norwich will not give us an answer.
"James would rather be here playing than be a bit-part player at Norwich. They may well feel they need more experienced players coming down from the Premier League in January to help them.
"James and his family and agent would love nothing more than for him to stay here. He is gaining so much from being here. He's a wee star, he's a terrific player."
The Aberdeen manager's comments came as the 113th annual meeting passed in serene fashion in just 36 minutes last night.
Dons chairman Stewart Milne expressed his disappointment at the club losing 3-0 to Celtic in the League Cup final on Sunday but is optimistic of future cup final appearance for the club with McInnes at the helm.
He said: "I'm sure everyone came along this evening hoping to have seen a trophy sitting here but, sadly, that wasn't the case.
"Everyone is disappointed about it, none more so than the manager and the squad but I think it is important we keep things in perspective. We have reached two finals in the last three years and have won one of them."
The chairman again implored the shareholders to get in touch if they could offer any financial assistance to help fund the estimated £50million cost of building the new stadium and training facilities at Kingsford.
Milne, who hopes to have planning approved by June next year, said: "Funding will be a big challenge in the economic climate we are in but we have clear plans on how to fund phase one, the training and community facilities. The funding of the stadium will be a bigger challenge but we are hoping by then the housing market will have recovered and we can realise a large part of that through the sale of Pittodrie. Selling naming rights will be part of that funding.
"A share issue will be required, too, but we hope to pull in lots of people to help us with that exercise.
"We've made lots of progress but no one is kidding themselves that we are anywhere near there. There is a lot to be done on several fronts to get us where we want to be."
The resolutions to re-elect directors Colin Welsh, Ian Jack and Craig Brown were all passed.