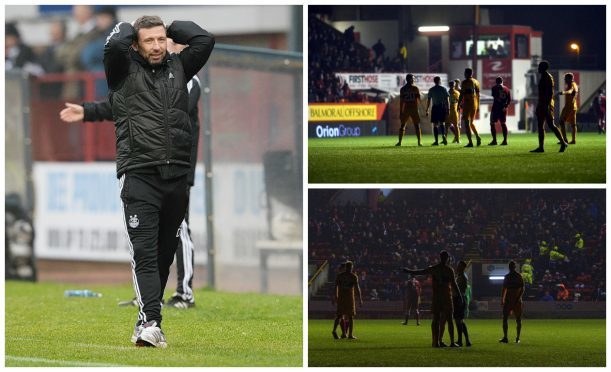 Motherwell will have to make the long trip Aberdeen all over again after their rearranged meeting at Pittodrie was abandoned after just seven minutes of play due to floodlight failure.
The sides were feeling their way into the match, postponed from October due to Aberdeen's Betfred Cup commitments, when the lights at the Merkland Road end of the ground failed.
After a 20-minute delay, play got going again only for the lights to fail for a second time just 90 seconds later, with the match still at 0-0.
The failure was the result of an issue with a mains transformer, with back-up generators the club had brought in also failing.
Motherwell chief operating officer Alan Burrows said the club were not sure where that leaves manager Mark McGhee, who was due to serve a suspension during the match.
He said "We don't know the rules regards Mark's suspension, so we'll have to find from the SFA what the situation is.
"From the club's point of view, the biggest worry is the player. Starting and stopping the game might result in somebody suffering a muscle tear, so it was the correct decision.
"In regard the fans who came up to the game, Aberdeen are letting them retain their ticket, which will hopefully allow them into the rearranged game, and we as a club will look to do something in terms of travel for the rearranged game.
"It's only right as a club to do that."
Aberdeen general manager Duncan Fraser said: "A couple of Fridays ago, a transformer failed at Pittodrie. A new transformer has been sourced and work to fit this will be taking place overnight, Wednesday into Thursday.
"In the meantime we had two generators to run the power for the stadium and the floodlighting. Unfortunately tonight the generator running the floodlight tripped. The engineers reset it, but unfortunately it tripped again.
"At that stage there was no guarantee it wouldn't continue to be an issue, and therefore from a safety perspective, a spectator perspective and a playing perspective, the decision was taken to abandon the game."