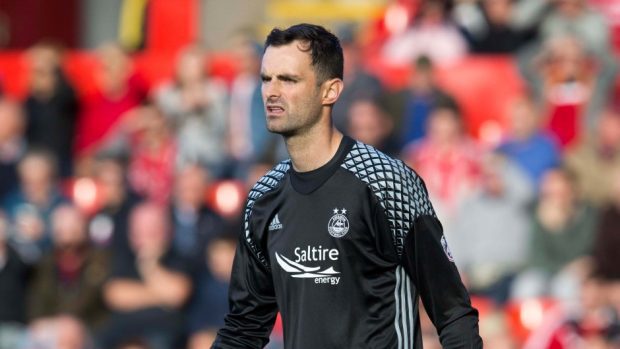 Aberdeen goalkeeper Joe Lewis is loving his football again after being given the chance to play regularly by the Dons.
The 29-year-old moved to Pittodrie from Cardiff City last summer and has been a standout performer for Derek McInnes' side, playing every game for the club this season.
Lewis' career stalled last season following an ill-fated move to Fulham but the move to Aberdeen has given the Englishman the chance to show what he can do. He has quickly established himself as one of the most consistent goalkeepers in the country and is happy to have repaid his manager's faith.
He said: "I have played more than 20 games this season and I only played 10 last season at Fulham.
"It is great to benefit from regular games to get a rhythm and to get into the zone.
"I am definitely benefiting from playing every week. The manager has shown confidence in me. I spoke to him at the start of the season and he gave me some good direction on how he wants his goalkeepers to play.
"Hopefully I have done what he has asked and warranted my selection."
Moving to Scotland was a step into the unknown for Lewis but he has revelled in the change.
The 6ft 5ins goalkeeper has given the Dons a physical presence they had lacked for several seasons and his ability to collect crosses and dominate the penalty area has helped take the pressure off the defence.
Lewis plays down his contribution so far and knows better than to allow complacency to creep into his game. He said: "There have been matches when I have been busy and others where I have had to keep my concentration so I've been at both ends of the spectrum.
"Mentally it has been a test and something I am enjoying. I am enjoying my football here as well as I have anywhere, and long may that continue.
"I am not naive to think I won't make the odd mistake. I just have to knuckle down and keep a level head about things.
"I can't get too carried away when things are going well or too down when they are not. I am 29 now and have played a good few games. I think my experience can help me maintain my form."