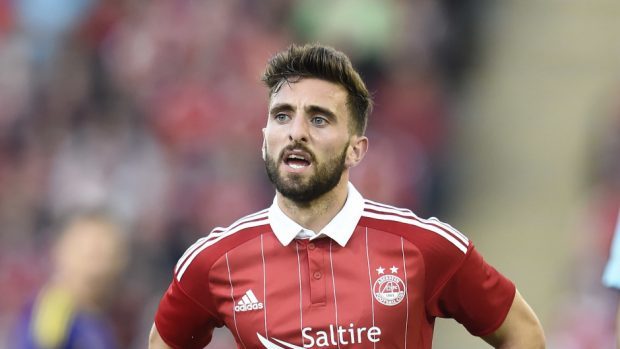 Doing all right. Can do better, will do better.
Aberdeen's Mr Versatile, Graeme Shinnie, is not satisfied with his form during the first half of the season and is determined he and his team will improve when the work begins again.
The Dons squad had a double training session at the Jebel Ali Centre of Excellence yesterday and also took in the chance to have a look at Sunday's Uzbek opponents Bunyodkor, who were playing Chinese Super League side Henan Jianye on the pitch next door.
The 25-year-old said: "My form has been inconsistent but I have played a good number of games which is what I wanted to do at the start of the season. I scored in the Motherwell game which was something I badly wanted and now I want to pick up where I was as I felt the three games over Christmas were my strongest performances.
"It's been good here so far. We flew in on Tuesday night and trained today to get the journey out of our systems.
"The weather is brilliant, the pitches aregood and it's something different to come here and get our preparation right for when we get back to playing games.
"I've never been to Dubai before but it certainly makes me want to come back. The focus is on getting back to training, the sunshine is fantastic and it's hard sometimes when we are training back home in the middle of winter.
"There is nothing better than training in the heat and getting back to normality and proper fitness."
The winter break was welcome for family man Shinnie, who added: "We had a week off and, although you don't lose a lot of fitness, players will shut down. I was with the family. My wife is from Inverness, so we spent a bit of time there and then plodded about Aberdeen and got a few things done with this in mind."
Second in the table and a strong run in the Scottish Cup is the ambition and Shinnie added: "We haven't set any targets. It's the time when the season starts to shape up and the focus moves on to what we need to do. When we get back we've got the cup match that we need to take care of professionally. Then we take it game by game.
"The season has been inconsistent. We haven't played to our maximum potential in some games but, on the flip side of that, we have been very good in others. There have been matches where we haven't got the wins we should have, but it has been that kind of season.
"Winning our last three games was exactly what we needed over Christmas and the players did brilliantly through that. This is our chance to build to the end of the season. This week gives us a chance to re-energise in the sun and make sure we are doing everything right. Other teams will be doing what they are doing but it is essential for us to get back into the swing of things and start again. We are all excited for it."
The transfer window is wide open for rumour and conjecture, with the odd chance of a transfer actually being completed.
Shinnie has heard the whispers and rumours concerning midfielders Jonny Hayes and Ryan Jack and added: "Since I have been here the rumours about players had not been too bad until this transfer window.
"The players have done brilliantly, so I kind of expect it. There is a lot of talk about this one and that one, so it was always going to happen.
"I'm hoping everyone is still here at the end of the window and, although I don't know what the manager's plans are, the club will maybe take in one or two.
"Here's hoping the club keep the players here. We don't want to break up the squad, there is a good nucleus. If it does happen I'm sure there will be plans in place to bring in others. We'll have to wait and see, it's that silly time of the season."