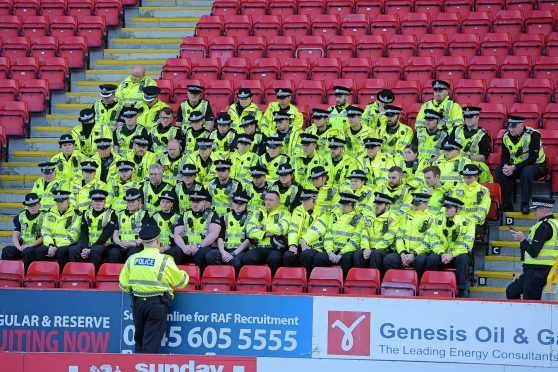 Police in Aberdeen have warned supporters to behave responsibly when the Dons welcome Rangers to Pittodrie this weekend.
More than 20,000 people are expected to travel to the stadium for kick-off on Sunday with thousands more across the country watching in licensed premises or at home.
A Scottish Premiership clash in September was marred with trouble after the Rangers team bus was vandalised at an Aberdeen hotel and a fan was fined for throwing seating at Dons fans during the match.
In December, an ill-tempered meeting between the two sides in Glasgow saw supporters charged for a series of offences, including assault, breach of the peace and attempting to enter the stadium while drunk.
Superintendent George Macdonald has asked all fans to support police and both clubs on Sunday to ensure the game is memorable for the right reasons.
He said: "I am well aware that the vast majority of fans will be there to enjoy the game.
"Everyone has the right to enjoy the match in a safe, trouble-free environment which means that anti-social behaviour, violence or disorder of any kind will not be tolerated – let me be very clear on this.
"As with any large sporting event, plans have been underway with our partners for many weeks now in preparation for this fixture and we value the positive relationship we have with Aberdeen Football Club to ensure match days are safe and enjoyable for everyone.
"As is always the case with such high profile fixtures, significant extra police resources will be on duty across the North East and within the stadium on Sunday with support from Specialist Officers, Dog Handlers and the Mounted Branch.
"I would also ask the public to work with us and support our officers on the ground as we make every effort to minimise disruption or potential disorder."
Fans will be closely monitored as they enter the stadium for possession of alcohol or pyrotechnics of any kind.
It is a condition of entry to the ground that fans allow themselves to be searched and those who refuse will be turned away by the club.
Superintendent Macdonald added: "I also want to remind fans that they should not drink alcohol in the street, in the stadium, or when travelling to and from the game.
"Those who attend the ground drunk will not be permitted entry.  Many of the incidents we deal with involve excessive alcohol, so please don't let yourself or your club down and spoil what should be a memorable occasion.
"To those travelling into Aberdeen to watch the game, plan your journeys in advance and leave plenty of time to get to the stadium.
"As well as working with officers from British Transport Police, Roads Policing officers will be patrolling the roads to minimise disruption and congestion on major routes.
"Finally, enjoy your day and let's work together to ensure that afterwards all that is being talked about is the football."