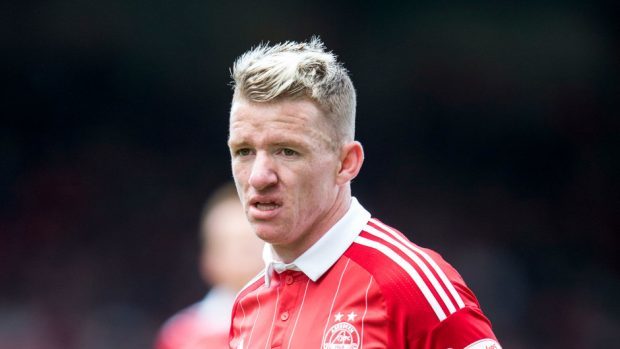 Aberdeen midfielder Jonny Hayes would happily get injured in the first minute of next month's Scottish Cup final if it means the Dons go on to win the match.
The 2014 League Cup final was a bittersweet experience for the Republic of Ireland international.
Hayes suffered a shoulder injury in the opening minute against his former club Caley Thistle and was forced to watch on as the Dons eventually prevailed on penalties to win the club's first piece of silverware for 19 years.
Hayes netted a deflected winner in Saturday's 3-2 victory against Hibernian to earn the Dons a place in next month's Scottish Cup final against Celtic.
Aberdeen have not won the competition since 1990 and Hayes admitted he would happily go through the pain again if it guaranteed victory for the Reds.
He said: "I'd take that again – I'd go off in the first minute and win on penalties. If you were to offer me that now I'd bite off your hand.
"The feeling of winning a trophy is something you can't put a price on. It will be a very tough task to go on and lift it but if we do it will be very special.
"Graeme Shinnie's won the Scottish Cup before and we've not heard the end of it, he talks about it constantly.
"If we get one it means he would have two and we still wouldn't hear the end of it but it would be nice to go on and do it.
"Being in a Scottish Cup final gives everyone the chance to put a mark on the club's history but it's a long way away just now.
"We'll concentrate on our league form and try to pick up three points at home to St Johnstone in our next game. Once the final comes around it'll be a good showpiece to look forward to."
The Dons will be determined to put up more of a contest in next month's final than they did when they were beaten 3-0 by Celtic in the League Cup final.
Second place in the Scottish Premiership is almost guaranteed and they can now start preparing for a second cup final. But Hayes feels it will count for nothing if they do not finish the campaign with a trophy to show for their efforts.
He added: "I'm not a big fan of runners-up medals. I've never held on to them, they don't really interest me.
"There's a big difference between first and second in terms of merit and, for me, if you are not first you are last.
"We'll take that into the cup final and try to go one better than the League Cup. What do I do with runners-up medals? I was actually thinking about the League Cup runners-up medal earlier – it went in a bag and I've not seen it since the final, so god knows where it is.
"History doesn't look back and remember the runners-up."