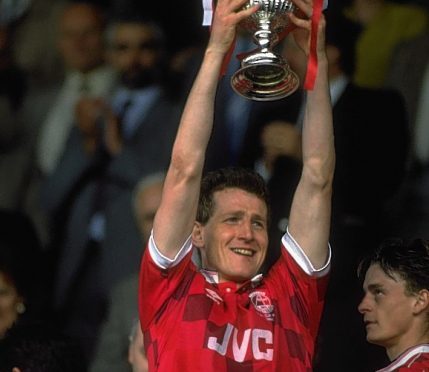 Brian Irvine's place as Aberdeen's penalty shootout hero is assured, but it could all have been so different all those years ago.
The Dons defender had served as understudy to Alex McLeish and club captain Willie Miller, but a serious knee injury to Miller led to Irvine getting the chance to establish himself in Alex Smith and Jocky Scott's side in the 1989-90 season.
But as the Scottish Cup final approached in May 1990 Irvine found his place in the side under threat by a determined Miller who had been working overtime to prove his fitness for the game.
In the end Irvine got the nod and went on to etch his name in the club's history, but the dilemma was one McLeish remembers dominating the build-up up until 24 hours before the game.
He said: "Willie was extremely close to playing in the final.
"Alex and Jocky had rested a few of the players for the league game at Parkhead the previous week and Willie had come in and led the younger lads to a 3-1 win against a full-strength Celtic side.
"The day before the game it was still up in the air and I remember Willie going in to see Alex and the two of them had an honest and open chat.
"It was a big call by Alex to leave him out and it was tough for Willie to take I'm sure as I know he wanted to play.
"It was not a question of ability.
"How could it be?
"He's Willie Miller, the best defender around who would walk into any team in the land.
"He'd been dogged by injuries all season and, even though he had worked so hard to try to get himself fit, the knee was causing him trouble and it was affecting his pace.
"Willie was all about that. Speed of thought, reading the play and intercepting, but physically he couldn't play to the level he wanted to.
"It would also have been really tough on Brian, who had stepped up from the role of understudy to be my regular defensive partner that season.
"In the end it turned out to be one of those funny things where a player who almost didn't play in the final ended up being the match-winner in it."