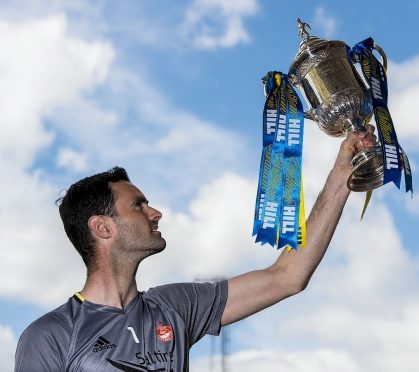 Aberdeen goalkeeper Joe Lewis is determined to bring home a Scottish Cup winner's medal for his father, who will be watching on in pride but not person tomorrow when the Dons take on Celtic at Hampden Park tomorrow.
Suffolk-born Lewis' father, Michael, has recently come out of hospital and is unable to travel for the match but will be watching on television.
Lewis relied on his father for lifts to training and matches in his younger days and the Englishman can think of no better way to repay him than to travel south with the first winner's medal of his career.
Lewis said: "I don't have anyone coming up. My father hasn't been very well recently and won't be able to travel. He will be watching on television and cheering us on.
"He is out of hospital but he isn't able to travel very far just now. He has seen plenty of my games on television. He watches everything and follows my career closely.
"It would be great to win a medal back for him. He would love that. He used to come to the majority of my games and when I was a kid he used to drive me everywhere.
"We used to train Tuesday and Thursday nights and on Friday it would be goalkeeping training and then games on a Saturday and Sunday morning.
"My mother and the rest of all my family have been really supportive, including my wife. She is there when I have had a bad game.
"This final is for the family who have to deal with all the negative sides of being a footballer and playing in nearly a 12-month season. A win would be great for them."
Aberdeen went down 3-0 with barely a whimper against Celtic in the League Cup final in November but Lewis believes the Dons can benefit from the difficult experience.
The 29-year-old added: "Going through things such as the League Cup final does make us stronger. We have to learn from our mistakes and from poor performances, which I think the squad has done.
"From the middle of December onwards we went on a great run, we won 10 home games in a row and showed great form.
"Players came into some great form as well and I believe we are a better team than we were in November's final. We have learned a lot of lessons."
The hurt of the final loss does not provide Lewis with any added incentive, however, and the former Peterborough United and Cardiff City goalkeeper said: "That League Cup game was not the Aberdeen team we have seen throughout the season.
"It might be motivation for some of the players but for me there is no more needed other than it is a cup final."