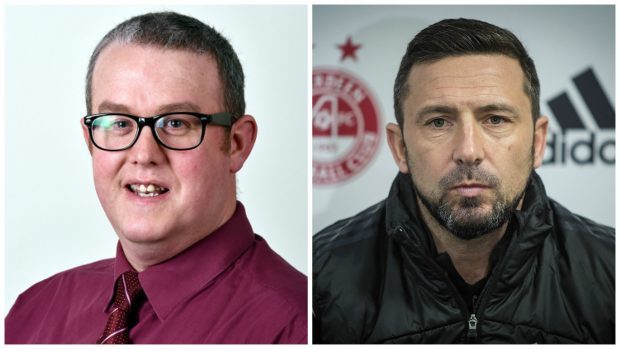 Dave Cormack, it seems, is happy to put his money where his mouth is at the Dons if events of the last 72 hours are anything to go by.
The Press and Journal broke the news yesterday morning Cormack is back at the club he served as chief executive from 2000 to 20001 as a director and what's more he is investing several millions in the process.
How much that equates to, no-one at Pittodrie is willing to divulge and with good reason. It's a delicate time of the year at Pittodrie with players departing, offers on the table for another a club in England desperate for their manager.
It has been reported Sunderland have agreed compensation with the Dons for Derek McInnes. The club denies it.
But clearly, while he waits for permission to be granted the Abedeen manager is considering if he wants to leave Aberdeen for the challenge of taking the Black Cats back to the Premier League.
It's a big decision and one the Dons boss will not take lightly.
Sunderland are in a mess financially but money is not in short supply in England and the Aberdeen manager has already shown he can work wonders in the transfer market.
After all, he did so with just £175,000 paid in transfer fees during his Aberdeen tenure. When he sees Sunderland bringing in £30million from the sale of their goalkeeper he must dream of what he could do with the proceeds of that sale alone if he got his hands on it.
But that's the crux of it. Will he have money to spend at the Stadium of Light? If not, then he probably is better off staying where he is.
That's where the arrival of Cormack becomes crucial. He brings expertise and business acumen but also cold, hard cash and how much of it will be added to the manager's budget could be the decisive factor in bringing this seemingly never-ending game of will he, won't he to an end.
The new Dons director had a chat with the manager a couple of weeks ago and you can guarantee money, the manager's transfer kitty and his targets for the close season was discussed.
It's a pivotal time in the McInnes era at the Dons with Niall McGinn, Ash Taylor, Ryan Jack and Peter Pawlett gone and Jonny Hayes seemingly on his way out.
Aberdeen supporters, understandably, are biting their nails at all of this. While Cormack's arrival sounds great the loss of first team regulars and potentially the manager is dominating the headlines.
Greg Tansey remains the only new face at the club and we've known he was coming for months.  The club is trying to sell season tickets and the players are due back for pre-season in less than a fortnight.
Reinforcements are vital if the Dons are to be, to quote the Prime Minister, strong and stable.
They're not quite weak and wobbly but with less than a month to go until their first competitive game in the Europa League the clock is ticking and Aberdeen need to put their foot down if they are to get their squad in place.
Having to find a new manager on top of that would be less than ideal timing.