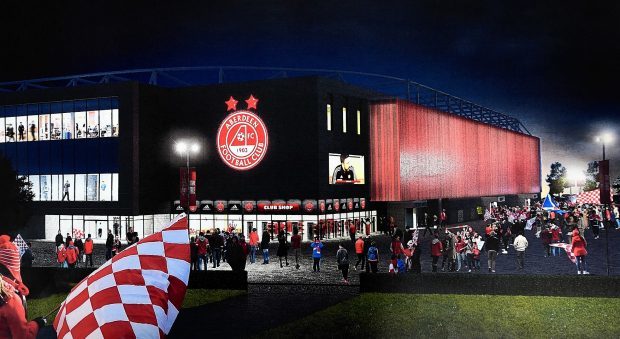 Aberdeen manager Derek McInnes used the example of his team's training session being cut short by the Hazlehead Academy lacrosse team ahead of one of the most important matches of their season to highlight his club's embarrassing lack of facilities.
Ahead of city councillors deciding on the club's controversial £50million plans for a new 20,000-seater stadium and training facilities at Kingsford, near Westhill, in October, the Dons manager yesterday made his pitch for the project.
The proposals for the 25-hectare site include three training pitches, two community 3G pitches, a community pavilion, a gym and an AFC heritage museum.
The project would be delivered in two phases, with the community and sports facilities and football academy constructed first and the stadium built in the second phase.
McInnes, Aberdeen's most successful manager since Alex Ferguson, warned the club is in dire need of its own training facilities.
The players use several different bases across the city for training purposes and the Dons manager says the situation is an enormous disadvantage for the team that finished second to Celtic in all three domestic competitions last season.
He said: "I am embarrassed with where we are and I have had numerous conversations with the chairman about this since day one. We train at Banks o' Dee, the Aberdeen Sports Village, Balgownie, Countesswells and the Barracks.
"We played Hearts at Tynecastle on December 30 last year and the day before the match the weather was bad so we had to book Banks o' Dee to get some work done on their artificial pitch.
"We would normally name our team, our shape and go through our set-plays on a Friday but we had our session cut short because some bank workers had decided to play on the pitches at Banks o'Dee during their lunch hour and it was double-booked.
"We were trying to finish off a session ahead of an important game in front of a sellout crowd at Tynecastle and we had some angry banker saying we were on their pitch.
"It is laughable, but that is our reality.
"That wasn't a private session, so anyone watching could have put our team out on social media and given Hearts an advantage.
"It was a similar case in February when we went to Ross County for a Scottish Cup game and the weather was bad.
"We were at Aberdeen Sports Village and it was double-booked with the Hazlehead Academy women's lacrosse team.
"They wanted two-thirds of the pitch and we couldn't do the work that needed done.
"We are professional in everything we do, yet the players are getting shunted down to the bottom third of a pitch at the Sports Village to try to fine tune our work.
"We got to the final of the Scottish Cup, but that was part of our preparations for one of our games. It is embarrassing."
McInnes has warned the club could return to the dark days of being bottom six regulars if the Kingsford project fails to win approval from councillors this year.
He said: "We are elite at everything we do except the facilities and it has to change.
"Will it take us to be a bottom six team and see other clubs signing top players? We will get left behind because we can't pay the wages that others can.
"When it comes to recruitment, Hearts and Hibs will be hoovering up players that Aberdeen could be signing, that is what is going to happen if we don't act now.
"We have got to take full advantage of the momentum that has gathered here on the pitch and the work done off the pitch.
"In terms of performance, we have been second in the league in recent years and we have been to three cup finals in four years but we are down at the very bottom of the Scottish Premiership in terms of facilities.
"Hibs, Hearts, Celtic, Rangers and others that we are competing against have an advantage on us every day. That is the reality we are facing. I just want the best for the club. I wasn't born in Aberdeen. I wasn't brought up as an Aberdeen supporter but I love this club.
"I only want the best for it. If we don't take full advantage of this opportunity then we will be kicking ourselves for years to come.
"If we are to be as strong as we can be we need new facilities."
A pre-determination hearing on the Kingsford project is set to take place at Aberdeen Town House on September 13, with councillors to decide on the plans in October.​
The scheme has its opponents and some have formed the No Kingsford Stadium Group.
Last night, they released a statement urging councillors to weigh up the impact of the development on their community.
The statement said: "We agree with the multiple concerns and objections about this planning application. The Kingsford site is seven miles from the city centre and hard up on the Aberdeenshire border.
"The club's proposed transport strategy is unsustainable and unworkable to such an out of city development."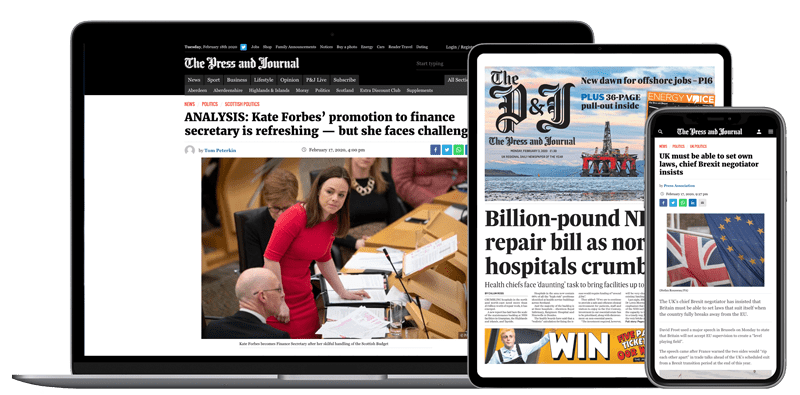 Help support quality local journalism … become a digital subscriber to The Press and Journal
For as little as £5.99 a month you can access all of our content, including Premium articles.
Subscribe