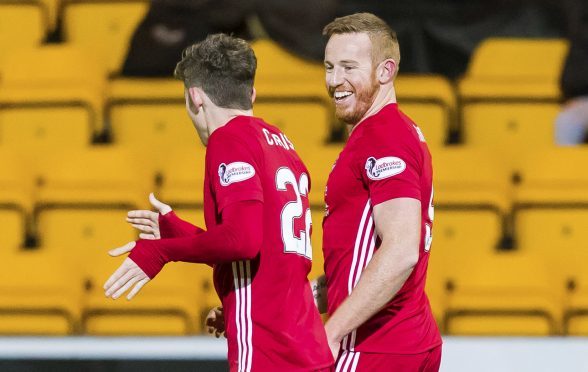 Aberdeen striker Adam Rooney has hailed his team-mates for showing their character to come through the speculation surrounding manager Derek McInnes and get their season back on track.
The Dons struggled during the six week speculation linking their manager with a move to Rangers, picking up four points from a possible 15, but Rooney back-to-back wins at Dundee and St Johnstone shows his side has recovered.
The Aberdeen striker, who scored the first goal in his side's 3-0 win at McDiarmid Park on Wednesday, said: "We've obviously had a bit of a tough spell there over the last month, when we haven't performed as we normally do.
"We always have tough spells throughout the season. We just have to make sure we stick together as a group, which we do and have enough character in the team to make sure we come back and bounce back and we have to believe we can go on a run of games.
"We've always done that since I've been here, put runs of games together and that's two clean sheets, two wins and that's more like what we're about really.
"I think that's what the fans have come to expect of us and although at times we haven't been brilliant we always get the three points.
"We've another tough game coming up on Saturday but we'll take confidence into that game. We look solid at the back and we're scoring goals."
Maximum points and a no goals conceded from the last two games represents two jobs well done for Rooney and he insists the speculation about his manager was not a factor in the recent poor run.
He said: "The link coincided with us not being in the best of form, so people obviously jump on something like that, but as players in the dressing room we had tough games, we didn't perform possibly like we could have done.
"Throughout the season we go through spells and someone always looks for a reason for it and that's why a lot of people linked it, but for us as a group we didn't focus too much on that."
Rooney's goal on Wednesday capped an eventful couple of days for the Aberdeen forward, having found himself subject of a Twitter conversation with Star Trek actor William Shatner.
Rooney had posted a picture of his decorations as part of a campaign to raise awareness of testicular cancer on behalf of charity Cahonas Scotland and was stunned to find Captain James T Kirk question their size.
Rooney said: "I don't think anyone was as surprised as me when I saw I had a tweet from William Shatner trolling me, but it's all right, we're mates now.
"I thought it was a parody account when I saw it, then I clicked on it and saw it had two and a half million followers.
"I actually have some family who suffer from the issue, so obviously the more awareness raised the better.
"I wasn't (a Trekkie) as a kid but obviously everyone knows who he is, so me and Bill are mates now."