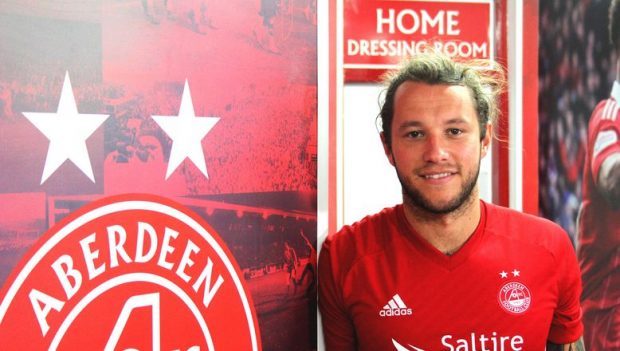 The competition is stronger but Aberdeen striker Stevie May believes the fight for second place in the Scottish Premiership will bring out the best in his side.
The Dons have recovered well from back-to-back defeats to Rangers by winning their last two games at Dundee and St Johnstone without conceding a goal and they bid to make it three-in-a-row when Hibernian visit Pittodrie today (12.30).
May said: "It's good for the league and good for us that there are competitors in there who can match up and we have good competitive games against.
"I've not been here the last few years but it is more competitive than it has been and that's a good thing.
"Although we haven't played to our full potential as a team we've picked up a good amount of points and we are in a good position in the league.
"We want to kick on and do better as Christmas is a busy time in the league and we're looking to pick up as many points as we can in the next couple of weeks.
"Wins are the most important thing and the last couple of games we've won and kept clean sheets.
"We could have been better, myself included, but when we do click we're good and in stages against St Johnstone we were as good as we have been.
"It showed what we can do when we are on point and we have to do that more."
Victory against Neil Lennon's side will take the Dons nine points clear of their fourth place rivals but May is focused on keeping leaders Celtic in his sights.
The Hoops are five points clear at the top of the table and with the Dons due to visit Parkhead next Saturday May knows it important they do not lose ground today.
He said: "We've got Celtic next week but we have to focus on this game.
"Celtic have dropped points when it hasn't been expected which means the gap is not as big as many expected and we are trying to keep with them as much as possible.
"A win tomorrow will go a long way towards keeping them close before next week's game down there.
"They are in good form in terms of how they are playing and they will be disappointed not to pick up more points in the last two games.
"They'll be hoping to come here and get the three points but we're confident after winning our last two games and we won't worry too much about what they are doing.
"We know they are a good team who can cause problems but we also know if we can start like we did in Perth on Wednesday we can give ourselves the best chance of winning."