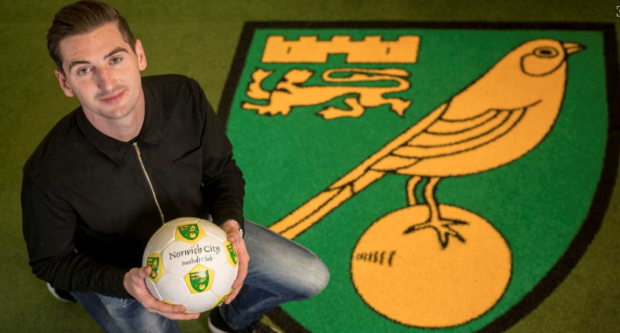 Kenny McLean believes Norwich City is the right fit for him after completing his £200,000 move from Aberdeen to the English Championship club.
McLean will return to Pittodrie on loan for the rest of the campaign after agreeing a three-and-a-half year deal with the Canaries and is relieved the speculation about his future has been brought to an end.
The 26-year-old former St Mirren captain said: "Recently I saw a bit of Norwich and it excites me to come and play here.
"The way the manager wants to play really does suit me and I'm just looking forward to getting started. It has the right feel about it.
"I've always had ambitions of coming down to play in England and the Championship is an excellent league. I've been in Scotland my whole career and wanted something different.
"I let Derek McInnes know that early on and then it's just been about choosing the right place for me. This is perfect.
"There's been a lot of talk about my future and taking everything into account, this felt like the right club."
Following McLean's return to Pittodrie, Dons boss McInnes is keen for the focus to be on the pitch rather than McLean's impending departure. The Aberdeen manager, who takes his side to Ibrox to face Rangers tomorrow, said: "We wanted Kenny to remain with us until the end of the season, so this represents the best outcome for us.
"It's a fantastic move for Kenny, both in terms of his career and financially, and I am delighted for him as he has earned his move.
"The importance of him remaining at the club for the rest of the season was prevalent in his mind, and he has represented both himself and the clubs interested superbly.
"All parties involved have handled the situation extremely well and we've ended up with an outcome which is positive for both Aberdeen and Norwich.
"The time for wishing Kenny well is not for now. We are entering an important period of fixtures and Kenny will play a pivotal part in helping us achieve our ambitions this season."
McLean is looking forward to playing under Norwich boss Daniel Farke and insists the Canaries manager was a big factor in his decision to move to Carrow Road.
He said: "The mana-ger's philosophy suits me. The way he put the club across to me was excellent and everything sounded perfect. He seems like someone everyone wants to work for.
"I'll need to adapt to the way he wants to play and that takes time. Doing that in pre-season is right for me. Hopefully I can fit in nicely and be a creative player for the team."
Farke is delighted to have McLean on board and is looking forward to working with the player next season.
He said: "Kenny is a player who is really flexible.
"He's full of technical ability with a high passing quality and he's able to score and assist. He's a player we really like.
"He can play nearly each and every position in midfield – as a number 10, a number eight, a number six or as a winger who comes inside.
"He gives us various options and is full of technical ability. He had a high passing quality and is able to score and assist."
McLean brings plenty of experience, with 262 appearances and 34 goals to his name in the Scottish top-flight.
Farke said: "At 26, he is a good age but still wants to improve.
"Physically, he's in a good condition. I'm looking forward to working with him."