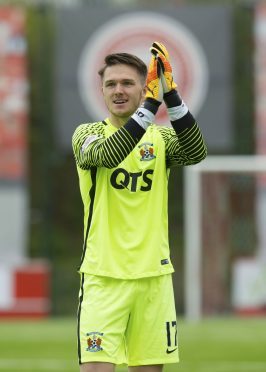 Aberdeen are getting themselves a potential Newcastle United and England number one in loan signing Freddie Woodman.
The 20-year-old stopper completed a move to Pittodrie on transfer deadline day and will look to enhance his growing reputation with an impressive second half of the season in the Granite City.
Chris Waugh, NUFC writer for The Chronicle in Newcastle, believes Woodman has not come north of the border again to sit on the bench. He impressed during a short spell at Kilmarnock last season and after winning the under-20 World Cup with England last summer, needs regular football.
Waugh said: "Newcastle have been looking to send him out since the summer and Freddie's been keen to go. Rafa Benitez was reluctant as he wanted a third-choice keeper and I think he's been frustrated at not being able to build on what he did at Kilmarnock and the under-20 World Cup.
"He looked a bit shaky in the FA Cup and you could see he needs to get out and play first-team football. He's very highly-rated within the club. He's been in the England setup since he came up and he was excellent in the under-20 World Cup. He's well thought of in the England setup too and I think they'll look at him as challenging for the number one spot.
"I've spoken to him a couple of times at games or press events and you could tell he was agitating to get away. He understood why he had to stay but Newcastle not signing another goalkeeper in the summer stunted his progression. It was key to get him out so within the next 12 to 18 months, he can be pushing for game-time at Newcastle."
The Magpies bringing in Slovak goalkeeper Martin Dubravka on deadline day allowed Woodman to go, following the strange scenario where he was on the bench for the Toon against Burnley in their Premiership encounter on Wednesday night before he could finalise his switch to the Dons.
Damaged knee cartilage has ruled regular number one Joe Lewis out for up to three months and Aberdeen boss Derek McInnes identified Woodman early as a potential solution.
Waugh added: "He went up to play for Lee Clark at Kilmarnock and every time you speak to him about his time in Scotland he speaks glowingly. He spoke about playing football with 'real men', which differed from under-23 games where results can, at times, be immaterial. Even though there were clubs from England, like Oxford, interested in him, he had no hesitation in going back to Scotland.
"He's only 20 but very ambitious – he knows he needs to get out and play. He can look at Jordan Pickford, who's a few years ahead of him, who went out to Preston from Sunderland and then got his dream move to Everton. He forced his way into the England team and is now fairly regular. Freddie knows he needs to play and hopefully Aberdeen will give him that opportunity.
"He made his debut against Luton last month and looked nervy at times and maybe the occasion got to him. He's not the biggest goalkeeper in the world but he's quick off his line and his reflexes are excellent. One thing you notice too is that he's very vocal, even with more senior players in front of him. He'll chat to them all the way through and is confident in his own ability."