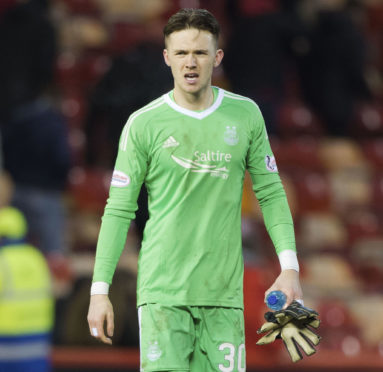 World Cup winner Freddie Woodman wants more winners medals with Aberdeen.
The on-loan Newcastle United goalkeeper is a World Cup winner having helped England to glory at under-20 level last summer in South Korea by saving a penalty in the final against Venezuela and was also a member of the under-17 European championship in 2013.
His early taste of success has whetted the 20-year-old's appetite for more and Woodman is targeting Scottish Cup success with the Dons.
Woodman, who hopes to keep his place in the side for Sunday's William Hill Scottish Cup fifth round tie against Dundee United at Pittodrie, said: "It's great that Aberdeen is still in the cup and what this club did last season in the cup shows the ambition here.
"This club wants to win trophies and it is great to be involved in that. If I do get to play in the Scottish Cup I'll be doing everything to help the club get the result it needs to progress."
Becoming a World Cup winner at the age of 20 is setting the bar high but Woodman, who enjoyed a spell on loan at Kilmarnock last season, insists winning the trophy has only made him hungrier for more.
He said: "Winning that trophy gave me a massive buzz and the realisation there is more to football than money and playing games. It's about winning things and the feeling you get from winning a trophy is hard to describe.
"Winning that trophy was unbelievable and it has given me the urge to win more. I want more trophies.
"It will be difficult to match being a World Cup winner but ask players how they win back to back league titles or Champions Leagues and they will tell you it's the feeling of getting your hands on the trophy that drives you. You want it again and again and it becomes an obsession.
"It was an unbelievable experience last summer. We had a fantastic team. We went out there, did the business so professionally and it was a great learning experience but I don't think I would have gone out to South Korea and performed like I did if I hadn't gained that experience of playing in the Scottish Premiership."
Woodman, who is now a member of the England under-21 squad, believes his experience in Scottish football has prepared him well for international football.
He said: "With Kilmarnock I played at Celtic, played against Rangers at home in front of big crowds. It helped for when I played in front of 60,000 Koreans going crazy about football so the league definitely helped me with that.
"I learned off Jamie MacDonald at Kilmarnock last season and will look to do the same from Danny Rogers and Joe Lewis here. I'm one of those people who wants to keep getting better until it's all over."