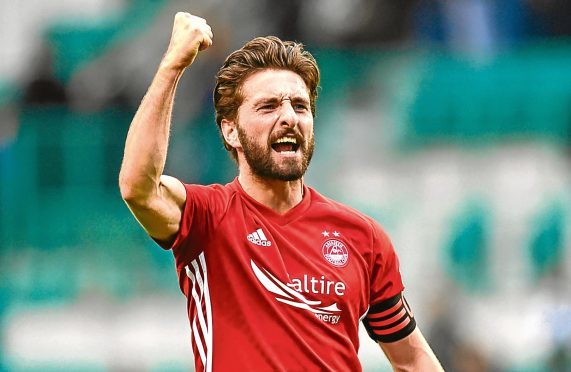 Graeme Shinnie insists Aberdeen will pay no attention to Dundee United boss Csaba Laszlo's comments ahead of their Scottish Cup fifth round tie.
Laszlo claimed the Dons had got lucky with the downfall of United, Hibernian, Hearts and Rangers at the same time but Shinnie has little interest in what he has had to say.
United sit 14 points off top spot in the Championship heading into Sunday's televised game, while Derek McInnes' side are three points clear in second in the Premiership – where they have finished in the last three seasons.
The comments have done the rounds at Pittodrie in the past few days but Shinnie said there are bigger matters to focus on than Laszlo's opinions and he shelters himself from such trivialities.
Shinnie said: "It's his opinion. We can only do the best we can and if he thinks that, so be it. We're happy with where we are as a club as a whole. It means nothing to us.
"I came across the articles and know what they're about but it doesn't mean anything to me. The game is the only thing we're focusing on. We can only do what we can do – Rangers were in the league last year and we managed to finish second.
"I don't read papers, I don't go on social media anymore. I wanted to spend more time with my daughter. I used to scroll through it unnecessarily and I have no interest in what celebrities are doing. I don't like to tell people what I'm having for dinner, so it's not for me anymore.
"It could have been in the canteen I came across it. Either that or someone's told me about it. There's a lot more important things on Sunday than the manager's comments. We want to do well in the competition and all we're focused on is getting into the next round. Some people might use it as motivation, who knows. But on a personal note, I feel it's a big game anyway."
The Dons skipper has not allowed himself to get too carried away, despite the hope they can go one better than last season and lift that elusive Scottish Cup.
He added: "Scottish Cup games can be totally different. When I was at Inverness we had Celtic in the semi-final and Falkirk in the final. One game we weren't favourites, the next game we were. But if we play to our potential, we should be looking to get through."