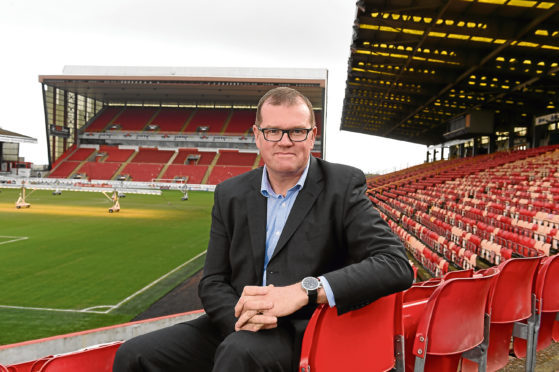 Aberdeen's new commercial director Rob Wicks is optimistic he can achieve his target of increasing the club's revenue by more than £5million in a challenging financial market.
The South African, who only joined the staff at Pittodrie earlier this month, has wasted no time in attempting to complete an ambitious strategy after launching a new membership scheme yesterday.
Wicks has been tasked with helping grow the club's revenue from £14.5million to £20million and believes the club's new AberDNA membership scheme could help the Dons close the financial gap on rivals Celtic and Rangers.
Supporters who sign up to the scheme for a premium price of £18 per month or a standard price of £12 will receive various incentives, including replica shirts, season ticket discounts and priority seating in the new Kingsford Stadium.
Wicks said: "We have some ball-park numbers of what we hope to raise but I don't want to commit to a number as this is an untried and untested scheme.
"We are certainly looking to get members in their thousands.
"We have seen what other membership schemes have delivered and we have high hopes.
"This is one of a number of initiatives and there are going to be other announcements coming soon.
"All of these initiatives will contribute to growing that revenue.
"The footballing landscape has traditional forms of revenue around sponsorship and hospitality but football clubs have got to be increasingly astute about how they generate incomes and look at new and innovative ways of doing so.
"Equally important is engaging with fans in a new and different way.
"This is a chance for fans of Aberdeen across the world to feel they are playing a part in the club.
"We have seen a lot of these membership schemes in England as well as at Hearts and Hibs.
"What really sets this apart from other membership schemes is that this one has been setup in such a way that all of the proceeds go to the football operation.
"The money raised will go to three key areas – supporting the first team, supporting the youth academy and enhancing the high-performance environment at the club.
"We want a level-playing field with the clubs down the road."
Wicks has joined the Dons after 11 years working for the Powerboat World Championship, firstly as a commercial director before being appointed as chief operating officer last year.
He said: "We have to look at ways to stand out in an enormously competitive sector.
"Powerboat racing was a hugely niche sport and we really had to find ways to separate itself.
"Football is no different."
The AberDNA membership scheme has been endorsed by Aberdeen's most successful manager, Sir Alex Ferguson.
He said: "I am pleased to be backing this initiative which will support Derek McInnes and the entire football operation as they seek to build on the progress they have made over the past few years and strengthen Aberdeen's position in Scotland and in Europe.
"By becoming members, supporters can assist Neil Simpson and his colleagues in the Aberdeen youth academy as they aim to continue to produce players of a high standard, not only for Aberdeen but for the national team."