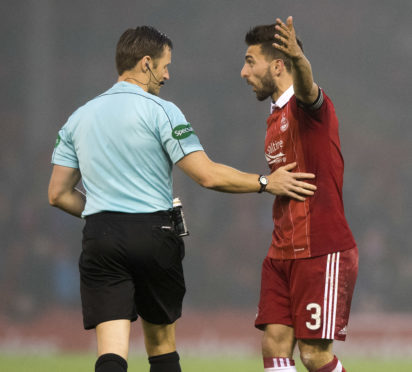 Aberdeen captain Graeme Shinnie said he cannot change his style of play as he faces up to missing the Scottish Cup semi-final.
Shinnie has accumulated 15 bookings this season and will sit out the Motherwell tie at Hampden Park next weekend, alongside team-mates Kenny McLean and Shay Logan.
A caution in extra time in the quarter-final replay against Kilmarnock confines him to the sidelines in the cup tie and he has already sat out big games against Celtic and Hibernian this season. However, he says there is little he can do to change his game and part of his appeal to manager Derek McInnes is because of how he plays.
Shinnie said: "I physically can't change my style. If I try to calm down one little thing in the game can make me switch again. It's the only way I know and it's what I'm good at.
"It's what's got me to where I am now. I feel some of my bookings have been very harsh – some have been my first tackle. I play in the middle of the park, so you would want a bit of leeway. But I'm not going to change the way I play. I'm on a roll, I've had two games without a booking.
"The manager probably plays me there because of that little bit of dig. If you take that away, it's hampering the team. Naturally, I do try to stay away from the bookings and it has become a talking point. Sometimes with a booking so early, it sets the tone for the game.
"It's become a talking point with how many I've picked up but I'm not going to change.
"John McGinn will play the same way because that's what he's good at. Murray Davidson as well."
Shinnie, McLean and Logan will be involved in today's game against Hearts at Tynecastle before they watch the last-four tie from the stands.
With two bookings equalling a suspension in the Scottish Cup, prior to the semi-finals, Shinnie feels it is something that could be looked at.
He said: "The cup cautions are a bit harsh. When I was at Inverness Gary Warren missed two cup finals, one of them was for two bookings. If it's a red you should get punished but if it's bookings, it's a bit harsh.
"You want the best players on the park for big occasions – not missing out for stupid bookings. The semi-finals are big games for Scottish football and you still want big players playing in them.
"We're going in without me, Shay and Kenny and we've played most of the games this season."