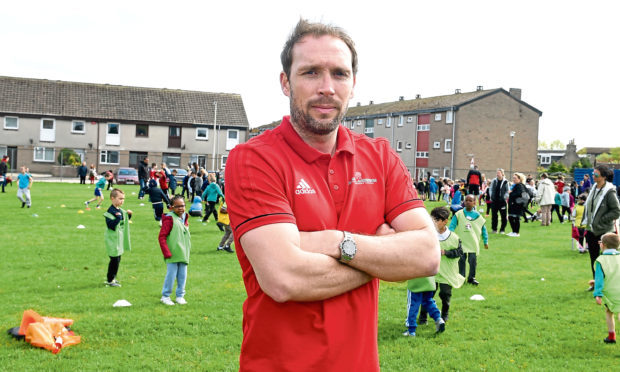 When he started up his own football school six years ago, Russell Anderson could scarcely have imagined 1,800 children a week across Aberdeen would benefit from it.
The former Dons skipper and his team at Russell Anderson Development School deliver sessions at seven primary schools in the St Machar catchment area with Anderson feeling they have only scratched the surface of what they could do.
A one-off festival at Riverbank Primary yesterday brought pupils from seven schools together for a day of football-based activities, which are aimed at improving not just sporting ability but also teaching life skills.
Anderson, who set up the school six years ago, did not imagine it would grow to this level and is optimistic about how it can continue to expand in the future.
He said: "It is quite scary because I think we have only scratched the surface. We are in all seven to varying degrees and a lot of that comes down to the practicalities of the facilities and also the funding aspect as well.
"I really didn't imagine when we started that it would grow this quickly and we could be coaching this amount of children."
He added: "There is so much more we can do. We have grown at a steady rate because we don't want to lose control because it is all about the quality of the sessions we are delivering and we don't want to dilute that.
"I feel now we are really embedded into this catchment area and there are other schools who could benefit from similar activities."
Anderson has a team of five coaches who visit Sunnybank, Cornhill, St Peters, Woodside, Kittybrewster, Seaton and Riverbank primary schools with activities to enhance ball skills, teamwork and balance and co-ordination.
A new volunteering programme has been launched, allowing children who have moved on to St Machar Academy to come back and help coach. They are also helping St Machar with providing work experience and Anderson would like to expand into secondary schools in the future.
While football is at the core of what they do, it is not the only thing Anderson hopes to teach. He added it was not about talent finding.
"It is more about getting the kids out and about and being active. It is all about life skills as well as football. There is teamwork, communication and character building are just some of the buzzwords but these are also other aspects where they help the kids."
The school is supported by the John Lawrie Group, The Wood Foundation, Saltire Energy and the AFC Community Trust.